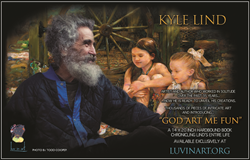 "Art has always been an international currency and a treasure chest in investment grade art seldom surfaces with so much inventory." Says Co-founder and President, Dale Cripps
Yelapa, Jalisco, Mexico (PRWEB) March 01, 2014
Yelapa Returns to its Roots in Art with Kyle Lind
Jalisco, Mexico February 25, 2014 - Not since Erte' rocked the world with his introduction of art-deco has the world of art been so deeply stirred as it is today. Doing the stirring is Kyle August Lind, a name you may well-recognize from the 60's and 70's. For 35 years Mr. Lind maintained not only a low profile, but a humble, patient, aesthetic existence giving complete and utter devotion to his art.
That isolation is ending for good on March 22nd, 2014 when a major showing of his work will be on display in the mystical community of Yelapa, Jalisco, Mexico. This community, just south of Puerto Vallarta, has long been a seasonal hideaway for many of the world's most notable artists. For years patrons have sailed into the largest and most stunningly beautiful bay in Mexico, returning home with art treasures tucked under their arms. "No different will it be on the 22nd, when we expect the brisk sales of both prints and originals. For those with an appreciation for ground-floor opportunities, this is it!", said Luv in Art Co-Founder Kevin Warren. The collection of artwork from Mr. Lind includes paintings, drawings, and other objects de art, all drawn from a huge private collection safeguarded in large warehouses and vaults.
"This is going to be really big!" exclaims Mr. Lind. In addition to his collection, there is his new book chronicling the artist's life. The book brings to light relationships with the likes of Salvador Dali, and his marriage into the royalty of Hollywood with Rory Flynn, the daughter of superstar Errol Flynn. This 365 page book named "God Art Me Fun", will be a centerpiece of the artist-in-exhibition and a lucky 30 visitors may take the 14 by 20 inch book home. Why only 30, one might ask? Because the limited edition best ensures appreciations for years to come. The book is of a special collectors investment grade, wherever you look new visual excitement is aroused – yes, aroused for all of the senses that wake up a new you, creating a helping hand to the re-balancing of our world.
There is a power within Mr. Lind's work which defies explanation. As Amanda Broomer Managing Director of the Manhattan Art and Antiques center said exploring her way through the book, "This is purely magical!"
The Yelapa exhibit is dubbed "God Art Me Fun" after the title of Mr. Lind's book. This first annual event kicks off what the promoters believe is a new movement. "The Neo Geo Renaissance", is a term coined by Mr. Lind himself. Dale Cripps one of the four principals of the production company, Luv in Art, in a recent interview said, "We have every reason to believe that the art patrons of the world will encourage us to produce a series of these art shows around the globe. Art has always been an international currency and a treasure chest in investment grade art seldom surfaces with so much inventory". Mr. Cripps has distinguished himself in prior years by providing a leadership role for the HDTV movement, and is today is taking experienced steps to bring awareness to the 4k HD movement through the addition of Fine Art. Those attending our event will see this for themselves. The 4k on display meets the artist's most demanding requirements for visual cues. Imagine an art show combining the intoxicating work of a master artist, along with the greatest advances in image technologies today.
Attendees will come from gallery owners, museum curators, personal patrons of the arts, and all those who just recognize the value of fine art, gracing their daily lives. The "Welcome mat is out... way out here in Yelapa. Everyone is fully behind the movement, and believes in the content of the art.", said Luv in Art co-founder Kyle O'Neil.
For more information on Kyle Lind, and to see a sample of his works, visit http://www.luvinart.org. To join the conversation on Facebook visit http://www.facebook.com/theartofkylelind
Yelapa:
Info from Yelapa.info:
Nestled in the southernmost cove of Mexico's largest bay, lies the peaceful village of Yelapa, Jalisco, Mexico. Although there is a road which leads to the pueblo, it is most easily accessible by boat. Transportation to the village departs daily from various locations in the Puerto Vallarta area. Yelapa's tranquillity is ideal for those looking to stay, for that entirely laid-back vacation. The beach is covered in a blanket of golden sand, and is a superb place to swim, snorkel, or parasail. If you are not that energetic you can just relax in one of the numerous beach chairs, soak up the sun, and enjoy a cold drink.
Accommodations:
(All prices are for March and April)
Lagunitas Hotel:
$90-$135 per night
http://www.hotel-lagunita.com
This palapa village is nestled on the beach to your immediate left as you come to shore. With around 30 unique palapas, you are bound to find one that pleases you, whether you come by yourself, with a significant other, or your family and all of your freinds. With an emphasis on nature and relaxation, this is the place to be to break free from the daily grind. Offerings such as massages and yoga classes on the beach make for a relaxing vacation never to be forgotten.
Casa Bahia Bonita
casabahiabonita.com
$55-$155 per night
Casa Milagros
$50 to $75 per night
Travel:
To get from Puerto Vallarta to Yelapa you can travel one way, and that is by water. Though there are many different levels of comfort to suite any preference. You may chose a padded water taxi, an exclusive private yacht or even a privately chartered sail boat. To learn more about these options please contact us at info@luvinart.org so we can help you find exactly what you are looking for. We are happy to arrange pickups from the Puerto Vallarta airport to insure a maximum level of comfort and service.
The Luv in Art team is glad to assist in all ways and excited to see you on
March 22nd.
Luv in Art:
info@luvinart.org
Mailing address: 753 East Fall Creek Rd Alsea Oregon, 97324 USA
Links:
http://www.vallartainfo.com/index.html
http://www.yelapa.info
http://www.luvinart.org
http://www.hotel-lagunita.com
To speak directly with an experienced Yelapa guide contact Carolyn at
yelapaconnexion@gmail.com
(044) 522 135 3413