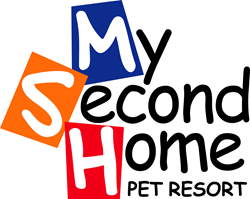 Featuring state-of-the-art amenities is simply a by-product of our commitment to pet owners.
Nashville, TN (PRWEB) February 27, 2014
My Second Home Pet Resort, a Nashville pet boarding, grooming and dog daycare facility based in Franklin, TN, is proud to announce the beginning of construction on what is to become the region's largest privately operated dog park and daycare. While the facility currently offers multiple play pavilions, over 1.5 acres of secure land, and advanced heating and cooling systems to combat weather conditions, the new massive undertaking will offer even further amenities and space.
New features include a brand new 7,000 sq. ft. area of state-of-the-art K9 Grass artificial turf, exciting and engaging daycare and agility equipment, increased staffing and training, as well as a further emphasis on behavioral modification for new pets adjusting to group play. My Second Home will also be rolling out daycare and playgroup exclusive events, including arts and crafts, "Puppy Olympics", and other engaging activities that will provide an even more enriching experience for participants and owners.
Since opening in 2004, the company has placed an increased emphasis on activity and engagement for pets, whether they are lodging or only stopping by for the day. "Countless studies have shown that active pets live longer and enjoy more fulfilling lives then their sedentary counterparts," Chris Starko, Director of Marketing notes. "That's why at My Second Home, we strongly support a culture of pet care that promotes a healthy and safe level of activity."
Owners who lodge their pets at My Second Home have a variety of activity options, designed to complement a pet's overnight stay, available to them. These discounted "packages", including the Gold, Silver, and Bronze level offerings, allow owners to choose the appropriate level of activity and fun that they feel is best suited for their pet. "We strive to keep pets, while in our care, in the same routine as that which they have at home," Chris noted. "So whether they are lodging or coming a few days of week to our daycare program, our client's pets are enjoying a tremendously healthy regiment that we are proud to be able to provide".
The total cost of the new outdoor amenities will exceed $200,000, however, the company is confident in the value it will bring. "Despite the cost, My Second Home Pet Resort prides itself on providing the highest level of pet care in the region, much less Nashville. Featuring state-of-the-art amenities is simply a by-product of our commitment to pet owners. We have a deep understanding of the bond between pet and owner, and it is our job to provide the reassurance and peace of mind that our clients deserve," Chris said.
For more information on My Second Home Pet Resort and its boarding, grooming, and daycare services, visit http://www.mysecondhome.com.
About:
My Second Home Pet Resort was established in 2004 by Dan Starko, former founder and President of Bulwark Protective Apparel. The company has served over 32,000 clients throughout the greater Nashville area and provides luxury pet boarding, grooming, and daycare services. In recent years, the company has greatly expanded its outreach to community rescues, shelters, and organizations, all while maintaining its commitment to top notch pet care services.
The pet care company has been recognized by multiple award organizations recently for the care it has provided in its 10 year history. Their largest service, pet boarding provides a wide array of accommodations, activities, and suite selections that ensure individualized care for the client. Visit http://www.mysecondhome.com today to learn more about this luxury pet care facility.