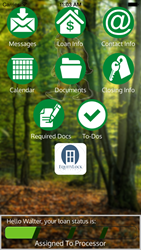 For decades consumers, loan officers and realtors searched for a mythical software program designed to improve the loan approval process. Many claim to have seen or even utilized programs only to be let down by their findings.
Swampscott, MA (PRWEB) March 01, 2014
Easy Mortgage Apps LLC's (EMALLC) private label software creates an ecosystem for the lending industry engaging the borrower, lender, realtor and title company. All relevant entities are able to communicate and share information in real time. The usage of this mobile app enhances the experience for the consumer and realtor, reduces latency and improves productivity.
Make no mistake, the mobile shift is happening and the large institutions like Quicken and Chase are leading the pack. Due to their extensive industry knowledge, EMALLC understands not all companies are as forward thinking as their LOs who are out in the field every day. Loansquatch allows individual loan officers to pay a monthly fee making it affordable to brand themselves as individuals, versus the enterprise edition, to gain a greater share of their local purchase market.
EMALLC offers a significantly more robust technology while remaining cost effective. The best way to demonstrate the functionality is via their weekly free video conferences.
Michael Kelleher, EVP says: "When a Loan Officer understands there is a tool out there to reduce the level of frustration of their borrower they will start sleeping easier at night. This is the only legitimate option to attract quality realtor partners who desire to be engaged throughout the process. It is a significantly better option than the offering muffins and coffee. Realtors have gone so far to say, knowing this is an option for originators they will not do business with mortgage companies who fail to implement this technology."
To find out more, please sign up for video seminar at http://www.loansquatch.com