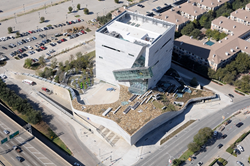 Dallas, TX (PRWEB) February 27, 2014
Associated Builders and Contractors (ABC) announced that KPOST Company's work on the Perot Museum of Nature and Science project in Dallas, Texas has earned the commercial roofing company an Eagle Award in the Exteriors category of ABC's Excellence in Construction Awards. KPOST representatives received the award Feb. 11 during the 24th annual Excellence in Construction Awards celebration at the Grand Wailea in Maui, Hawaii.
"I am very proud to recognize KPOST for winning one of our Excellence in Construction Awards and contributing to the overall advancement of ABC and the construction industry," said 2014 ABC National Chairman Dan Brodbeck, president and CEO of Compass Partners, LLC. "Their project was a great example of innovation, quality and commitment to safety."
After providing three years of design input and pricing, KPOST proved to be invaluable onsite for its roofing expertise and ability to solve unique waterproofing challenges on this high-profile science museum.
"It is an honor to receive this Excellence in Construction award from ABC for the Perot Museum project. The museum is an important building, both from an architectural and design standpoint and from the legacy it leaves for the North Texas area," said Steve Little, KPOST Company president. "It's an honor to work side-by-side with great teams, other contractors, architects and good folks like the Perot family to bring something like this to life."
The Excellence in Construction awards program is the industry's leading competition, developed to honor innovative and high-quality merit shop construction projects. The award honors all construction team members, including the contractor, owner, architect and engineer. The winning projects, selected from entries submitted from across the nation, were judged on complexity, attractiveness, unique challenges overcome, completion time, workmanship, innovation, safety and cost.
A panel of industry experts served as the competition's judges. This year's panel included representatives from the Design-Build Institute of America, Engineering News-Record, the American Institute of Architects, and the National Association of Women in Construction, and representatives from higher education, among others.
About KPOST Company
KPOST Company, Dallas commercial roofing experts, is an industry-leading commercial roofing and waterproofing, contractor whose core values are SAFETY, QUALITY, and VALUE. KPOST's services include commercial roofing (both new construction and roof replacement), waterproofing, specialty installations, repair & maintenance and lightweight insulating concrete. Over the past 10 years, KPOST has completed over $250 million in roofing/waterproofing construction including high profile contracts such as the AT&T Stadium, the Perot Museum of Science and Nature, the Omni Dallas Convention Center Hotel, and the Container Store Headquarters and Distribution Center. For more information, visit the website at http://kpostcompany.com.