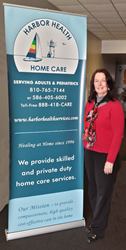 Providing the best in patient care has always been our top priority.
Marine City, MI (PRWEB) March 01, 2014
Harbor Health Home Care, a Michigan based provider of home health care services, is proud to announce that they are the recipient of Pinnacle Quality Insight's 2014 Customer Experience Award, qualifying for the award in the categories of Care of Patients, Specific Care Issues, Communication, Caring Staff, and Recommended Agency to Others. Harbor Health Home Care displays a continued dedication to providing Best in Class senior healthcare services.
Louann Jobbitt, owner of Harbor Health describes receiving the awards as an honor, stating that, "Providing the best in patient care has always been our top priority. Our nurses and therapists in addition to the supporting staff members work together as a team, providing each patient with exceptional care. I am extremely honored to work with a group of individuals who have such deep compassion and dedication in the field of health care and to those that they serve."
Throughout its 18 year history of serving the community, Harbor Health Home Care has placed a strong emphasis on ensuring that the individual needs of every patient are met. Over the course of 2013, a sampling of Harbor Health's customers and their families have participated in monthly telephone interviews that include open-ended questions, as well as the opportunity to rate Harbor Health in specific categories.
Every month, Harbor Health has gathered its real-time survey results in order to gain a better understanding of the patient's needs and make improvements when necessary.
By qualifying for the Pinnacle Customer Experience Award Harbor Health Home Care has satisfied the rigorous demand of scoring in the top 15% of the nation across a 12-month average. Clients have the opportunity to achieve this Best in Class distinction on a monthly basis in many categories designed to accurately reflect each patient's experience.
A customer satisfaction measurement firm with over 17 years of experience in long-term healthcare, Pinnacle conducts over 100,000 surveys a year and works with over 1,500 clients in 47 states, Canada and Puerto Rico.
About Harbor Health Home Care
Harbor Health provides care for skilled and private duty services in the areas of St. Clair, Macomb, Oakland, Sanilac, and parts of Wayne County. For more information, please visit our website at http://www.harborhealthservices.com or call 1-888-418-2273.