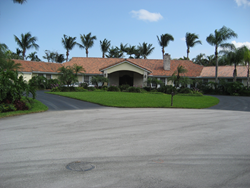 The key to our success has been T&S Roofing's focus on the overall consumer experience from beginning to end.
Miami, FL (PRWEB) February 28, 2014
T&S Roofing Systems, Inc., Miami's top residential roofing contractor, is celebrating a major anniversary, ten years in the roofing business. Since its incorporation in February of 2004, T&S Roofing has repaired or replaced more than 4,000 roofs throughout Miami-Dade and Broward counties. As a result, thousands of families are staying dry and rain free thanks to their newly installed, repaired or refurbished roofs completed by T&S Roofing.
In fact, T&S Roofing Systems, Inc., located at 1461 N.W. 23rd Street in Miami, has been issued more roofing permits in the building department of municipalities such as Coral Gables, Village of Pinecrest, Palmetto Bay and Miami Beach, than any other residential roofer.
"The key to our success has been T&S Roofing's focus on the overall consumer experience from beginning to end," said Louis Toledo, President and Chief Executive Officer. In 2004, Toledo and Ernesto Sanchez partnered to form a roofing business. Toledo, who was just 21 years old at the time, obtained his State of Florida Roofing Contractor license and focused on marketing and sales. Sanchez, a master roofing technician and instructor, handled and supervised all job sites.
In 2005, T&S Roofing grew rapidly as a result of Hurricanes Katrina and Wilma, which tore through Florida and the Southeastern United States. In August 2005, immediately after Hurricane Katrina, the company was brought on by FEMA to install emergency tarps on damaged homes and businesses throughout Miami-Dade County.
In 2008, T&S gained the notable title of being issued more roofing permits by Miami-Dade County's building department, than any other roofer in the area.
Throughout the decade, the company has built a reputation for quality work, honest pricing and excellent customer service. These were big feats considering historically, the roofing industry has been known for having a bad reputation and high turnover rate. Statistics show over 70% of roofing contractors fail and go out of business within their first two years. But T&S Roofing is trying to change the stigma and offer consumers a positive experience and improve the industry as a whole.
"I couldn't have dealt with a more professional group of individuals," said Jorge Cubero of Pinecrest, Florida and a T&S customer. "T&S stuck to its estimate, started on time, took care of my property while on site, finished on time and left my home impeccably clean. What more could I ask for?" he added.
T&S Roofing Systems is the recipient of several awards including: The Rising Star Award from the Coral Gables Chamber of Commerce, the Top 100 Minority Businesses with the Greater Miami Chamber, and the Triple Excellence Award from GAF Materials Corporation.
T&S Roofing is hoping to expand its positive influence in not only the roofing industry, but in the community. Just this month, the company partnered with the No Roof Left Behind program to offer two deserving families a free roof. Here's how the program works: anyone can nominate themselves or a homeowner they think is deserving and in need of a roof via an on-line nomination. Once the winner is chosen by the local community through online voting, T&S Roofing will pay all materials and labor costs for those roofs, as a way of giving back to the community. For more information about the No Roof Left Behind Program, visit https://noroofleftbehind.com/program/fl/1101.
"We are so grateful to have a thriving business in our hometown Miami-Dade County," said Toledo. "We hope T&S Roofing Systems will be around for decades to come and will always be respected for our honest pricing, quality work, and our dedication to the community," he ended.
About T&S Roofing Systems, Inc.
T&S Roofing Systems is the leading residential roofing company serving Miami-Dade County. Established in 2004, the Miami roofing company services over 400 homes per year, more than any single roofing company in Miami-Dade County, and proudly maintains an A rating with Angie's List and the Better Business Bureau. For more information, please visit the company's website at http://www.tsroofingsystems.com or call 305.639.7663.