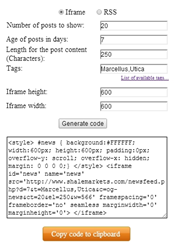 Anyone can add customized, current O&G News to their website.
(PRWEB) February 28, 2014
Shale Markets, LLC, a premier source for news and events related to the oil and gas (O&G) industry, and a mega marketer for targeted banner ads and marketing, announces customizable news feeds for websites and personal RSS Readers.
Shale Markets posts approximately 30-45 news stories per weekday related to the Oil and Gas Industry. These news stories are shared via the website at http://www.ShaleMarkets.com, LinkedIn, Twitter, Facebook and Google+. Shale Markets spends many hours each day searching the web and various web sites for the most up to date and content specific news that is of interest to the Oil and Gas Industry.
Individuals, companies and webmasters can now go to http://www.shalemarkets.com/add-our-news-to-your-website/ to build code that adds either an iFrame or a RSS feed of news that meets certain criteria. Users can create a news feed that varies based upon the following: RSS vs iFrame, number of news stories to show, age of news stories, length in characters of each excerpt, and tags.
There are several hundred tags to choose from, but some examples are as follows: Australia, Bakken, Benefits, California, Canada, China, E&P, Eagle Ford, Emissions, Environment, Europe, Events, Forecast, Fracktivists, India, Infrastructure, Innovation, International, Jobs, Legislation, LNG, Marcellus, Middle East, Misinformation, New York, NGV, Ohio, Pennsylvania, Pipeline, Prices, Russia, Safety, Supply Chain, Texas, Transportation, UK, US Economy, US Exports, US Shale, Utica, Water.
Users may choose to include different combinations of multiple tags as well.
This is a free service that will remain free. Also note that there is no advertising on in the iFrame or RSS code. Webmasters can post relevant news on a website without fear of advertising, which can tend to cheapen the news feed.
If the user chooses an iFrame, a complete piece of code will be provided that just needs pasted into a web page. One does not need to be a programmer to institute news onto a website. If RSS is chosen, then a custom URL will be provided. All RSS URLs are tested and have passed RSS Standards.