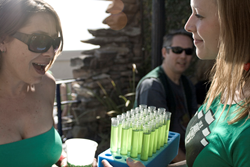 Stamford, Connecticut (PRWEB) February 27, 2014
Every aspect of the St. Patrick's Day festivities at Tigín Irish Pub, which last all month-long, are focused on providing an over-the-top - yet authentic - Irish experience. European sports are featured, including English Premier League, as well as traditional Irish food and live music, Pub Quiz, fundraisers and more.
Starting March 1, the social order in Stamford shifts towards a singular purpose: celebrating all things Irish. This means wearing green, eating traditional Irish food, connecting with community through charity, and, of course, drinking Guinness and fantastic Irish whiskey. After 17 years of throwing the biggest Paddy's Day event, Tigín Irish Pub in continues its tradition of delivering revelers Stamford's definitive 2014 Paddy's Day celebration. "Party like a Paddy" never sounded more right.
Here's what to expect during the biggest St Patrick's Day Bash in Stamford:
Parade Day, Saturday, March 8 - Doors open early for English Premier League soccer and live Music under the heated tent from 2 p.m. until midnight featuring The Irish Band, Scratch, Last Hoorah and Irish Dancers from Anam Cara to perform at 3:30 p.m. Cover charge begins at 4pm. 21+ after 4 p.m.
Presale tickets for both the 8th and 17th are $7. $10 at the door.
Two-day pass $12.
Buy tickets in advance.
Super Paddy's Day Pub Quiz with Quizmaster Mel, Tuesday, March 11, 8 p.m. - Extra spins of the wheel for a chance to win 4 VIP passes to Paddy's day --Special prizes and fun for all. No entry fee. New teams welcome.
Guinness Pint Glass Engraving Event, Thursday, March 13 from 6 p.m. - The Irish Band plays inside at 9 p.m. No cover.
Leary Foundation Guest Bartender Event, Friday, March 14 from 7 p.m. until 9 p.m. - Guest firefighters will be behind the bar pouring pints to benefit The Leary Foundation.
Super Sunday, Saturday, March 15 - Doors open early for European sports, including English Premier League soccer and live music with Super Hero at 10 p.m. No cover.
Stamford Police Dept Benefit, Sunday, March 16 - Doors open early for English Premier League soccer featuring Manchester United v Liverpool and Spurs v Arsenal. Heated tent opens at 2pm. No cover but generous tips welcome.
St Patricks Day, Monday, March 17 - Doors open at 9am. Limited Menu Live music all day in our heated tent as well as Irish dancers from Anam Cara. Live music 2pm-Midnight Last Hoorah, Cray & Dempsey. $10 cover charge and 21+ over starts at 1 p.m.
Presale tickets for both the 8th and 17th are $7. $10 at the door.
Two-day pass $12.
Buy tickets in advance now!
About Tigín Irish Pub
Tigín (pronounced ta-geen and is Irish for "small cottage") Irish Pub was the first Irish pub to be designed and constructed in Ireland and shipped and installed in Stamford. Tigín is distinguished by its genuine Irish hospitality, quality of its pints and craic (pronounced 'crack', a uniquely Irish form of fun). Tigín has been voted 'Best Of' by a number of local and national publications. Tigín is an official US Soccer bar. Get more information by visiting the pub's website page, Facebook page or by following @tiginstamford on Twitter and following the hashtag #stpatricksday2014.