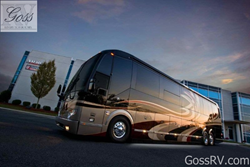 "New features allow us to create a custom travel package to meet client's specific needs." - Jer Goss
Atlanta, GA (PRWEB) March 07, 2014
Goss RV Inc., a national leader in luxury motor home rentals and purchases, introduces its motor coach video showcase and a luxury fast-pass shopping experience. "March marks our official start of the spring and summer travel planning season," says Ken Goss.
The Goss RV Super Showroom fast-pass and the new video showcase are designed with the visitor's unique needs and interests in mind. The video showcase Welcome Page starts the luxury experience in style. Guided tours of both the coach and its travel destination possibilities give the client a taste of the possibilities for their spring, summer and business travel. "The video showcase aids in the visualization of the perfect motor coach for each person's rental needs," says Jer Goss. The first Prevost Coach Tour highlights the travel possibilities and ways to raise the fun level on your favorite things, such as arriving at your weekend golf outing with your family or foursome in a fully equipped, amenity packed mobile luxury suite. Plus, the coach can be delivered to your driveway freeing up more fun time.
Another way GossRV increases fun time is by saving time in the travel planning process. Their new fast-pass access, when enabled, allows the client, at a brush of a mouse or a single swipe, to converse with a Goss team member and consider multiple coaches simultaneously. "With this new feature, we are able to determine our client's needs via a quick phone conversation that allows us to create a custom package to fit their needs specifically," says Jer Goss. We also offer driveway delivery services, private driver and set up services across USA."
"The NASCAR racing season is moving into its third weekend and we have added the 2014 schedules and racing insights to our Travel Tips blog. Clicking the Travel Tips tab from our home page brings you to the NASCAR schedules and season highlights.
"Goss RV Rentals and Luxury Motor Home Sales are family-owned businesses, headquartered in Atlanta, GA with more than 30 years' experience in providing the best full-service solutions for luxury motor home rentals and purchases nationwide."
ABOUT GOSS RV INC.
Those seeking more information, regarding luxury motor home rentals or luxury RV sales, visit http://www.GossRV.com and click on Contact Us or call (770) 938-2035. For http://www.LuxuryMotorhomeSales.com, click on Contact or call (866) 693-0333.
Connect with GossRV:
Like us on Facebook.
Visit on Google+.