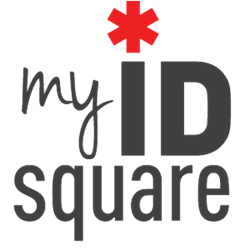 'One quick scan of the SquID offers essential health and contact information so that proper treatment can be delivered right away.' - Gary Scheiner Owner, Integrated Diabetes Services & AADE 2
Merion, PA (PRWEB) March 04, 2014
The benefits of wearable gadgets that monitor wellness are becoming increasingly clear. Even US Secretary of Health and Human Services, Kathleen Sebelius, praises mHealth, the incorporation of mobile technology in healthcare and wellness, as "the biggest technology breakthrough of our time (1)." So, with the advent of mobile technology, how can these new advancements help eliminate medical mistakes and provide better information during emergencies? One responsive business has a promising answer. MY ID SQUARE introduces an innovative line of medical jewelry poised to revolutionize the use of connected health technology. No other medical ID on the market provides the same level of functionality: alerting emergency contacts and transmitting location data, while also allowing users to maintain their medical information online via mobile devices.
My ID Square's colorful and customizable bracelets and dog tags--the first launch of a series of expected products--utilize Quick Response (QR) codes and URLs that link directly to online emergency medical profiles. These profiles are maintained by users and include vital information on allergies, medications, chronic conditions, physicians and emergency contacts. When an ID known as a SquID (for Square ID) is scanned, critical information is instantly accessed. SquIDs also allow patients to easily manage medications and medical care preferences, staying in step with popular gadgets that consumers increasingly choose to better self-monitor their health. Another product, the MedAll, provides a quick and easy visual alert to patients' allergies and medical conditions.
My ID Square conceived its products in collaboration with doctors, EMTs, jewelers, and consumers to be easily recognized by first responders, 95% of whom look for medical ID tags. Unlike old-fashioned dog tags and clunky chain bracelets of the past, My ID Square's products don't compromise on design, offering colorful and interchangeable accessories that everyone--from tweens to seniors--will want to wear. Product pricing includes a life-time subscription to an online medical profile and the company is offering free shipping in the USA and Canada. Visit http://www.myidsquare.com for more information.
1 Steven R. Steinhubl MD; Evan D. Muse MD, PhD; Eric J. Topol, MD; "Can Mobile Technologies Transform Health Care?," Journal of the American Medical Association 310 (December 11, 2013): 2395-2396.