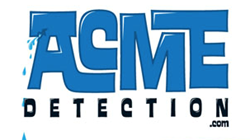 We are a local business that is proud to offer the utmost professional service.
Santa Barbara, CA (PRWEB) February 28, 2014
With the recent addition of new, state-of-the-art equipment to his business, Gary Fuller of Acme Detection, a Santa Barbara leak detection company, has announced the expansion of his range of services offered to clients.
"We are a local business that is proud to offer the utmost professional service," Fuller said, "and with the addition of our new equipment we are confident that our service abilities will continue moving forward in this technological age."
When a leak is suspected by a home or business owner, their professionals will inspect the area for free and will then give a quote proceeding with any necessary repairs. Some of the technology used includes Flir infra red, Metrotech audo and Extech moisture sensing. These, as well as other types of equipment, aid the technicians in providing accurate and non-invasive forms of investigation.
With an experienced and well-trained staff of specialists, Fuller's business takes every consideration of home and business owners, including time and money, at the forefront when responding to each service call. Using the latest technology helps Acme Leak Detection maintain a reputation of providing fair, accurate and reliable service.
"It is important to maintain our reputation in the community for being reliable and professional while providing quality detection services, "Fuller said. "Leaks can sometimes be a bit sneaky and it's our job to find them before they can do any further damage."
Whether the issue is coming from a roof, a water, sewer or gas line or may be caused by defective pipes and plumbing, Fuller and his team have all the necessary tools, equipment, knowledge and experience to uncover and repair problem areas.
ACME Leak Detection
1081 E Mountain Dr.
Santa Barbara California 93108
(805) 565-LEAK (565-5325)