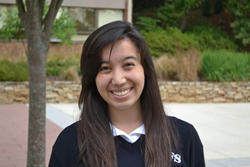 Katherine contributes to GFS in so many ways, academically and artistically and as a student leader.
Owings Mills, MD (PRWEB) February 28, 2014
Katherine Paseman '14 adds another accolade to her already impressive senior year resume: National Merit Finalist. The National Merit Scholarship Corporation recently announced the 15,000 national finalists, and Katherine, a boarding student from Silicon Valley, California, was among the nation's 2014 National Merit Finalists.
Last fall, Katherine received recognition as a National Merit Semifinalist, along with classmates Ashley Mitchell and Anna Gorman who were named Commended Students and Fabian Berenguer-Gil who was honored as a National Hispanic Recognition Scholar. The National Merit Scholarship program is open to all high school students who complete the PSAT/NMSQT by the close of their junior year. Approximately 1,500,000 students take the test each year. Of those, the top 50,000 students—only 3% of all test-takers—qualify for National Merit acknowledgment.
In January, Katherine was named a 2014 Intel Science Talent semifinalist, one of 300 in the United States and the first Intel STS semifinalist in Garrison Forest history. She was one of only 21 semifinalists from Maryland and the only winner from a girls' school or independent school in the State. Intel STS is the nation's most prestigious science research competition for high school seniors. Her Intel award carries with it $1,000 for her and $1,000 for Garrison Forest.
"We are deeply proud of Katherine's achievement as the first Garrison Forest student to be acknowledged in the Intel STS competition," notes Peter O'Neill, Head of Garrison Forest School. "Her accomplishment is a reflection of her extraordinary intellect and of her exceptional work through Garrison Forest's Women in Science and Engineering [WISE] program with Johns Hopkins. In addition to her achievements in the field of engineering, Katherine contributes to GFS in so many ways, academically and artistically and as a student leader."
Her Intel STS project entitled "c ≠ 35H: A New Model Relating Hemoglobin, Hematocrit, and Optical Density" embodies the level of academic inquiry and rigor she brings to every endeavor. Last spring, she entered the 2013 Baltimore Science Fair with a similar independent research project, "Improving Non-Invasive Blood Analysis by Expanding the Medical Spectral Window," and earned a medal for creativity and innovation in the public health area.
Her Intel STS application focused on creating an analytical model of the Hemometer. "Such a device has many uses: home health monitoring, blood bank pre-screening, etc.," she explains. "But our primary focus is helping Jhpiego reduce infant mortality in the developing world by detecting low hemoglobin levels in expectant mothers. In order for the device to work, we need a mathematical model of how light interacts with whole blood. We create one by extending existing equation-based models using intuitions from 3D geometry."
Jhpiego, the Johns Hopkins-affiliated international health organization providing life-saving maternal care and resources to more than 50 developing countries today, is an organization Katherine became interested in through her junior-year semester as a WISE student. Since 2005, Garrison Forest and The Johns Hopkins University have partnered to offer in-depth research mentorships to talented GFS students. Last spring, Katherine spent two afternoons a week in Hopkins' Whiting School of Engineering Center for Bioengineering Innovation and Design (CBID), which is affiliated with Jhpiego. She assisted with the development of an antenatal screening kit to detect diseases such as pre-eclampsia and gestational diabetes, two of the leading causes of maternal mortality globally.
So engrossed by the work of CBID and enthralled by hands-on research at a world-class university, Katherine chose to remain in Baltimore last summer to continue her WISE research with CBID and to work on the analytical model she submitted to Intel STS.
The CBID internship paved the way for field work in India this past December where Katherine spent ten days in Kolkata, India with a CBID research team. In Kolkata, she and three members of the CBID Hemoglobe team under the supervision of Dr. Soumyadipta Acharya field tested the validity of several models of non-invasive blood analysis. The data collected will assist the HemoGlobe team and Katherine's own Hemometer effort—Katherine was the only high school student to accompany the HemoGlobe team to India—to create devices that can diagnose illnesses with light, highlighting warning signs of diseases such as anemia and decreasing mortality among pregnant women. "We are each building low-cost devices which use light instead of needles to measure components of a blood panel," Katherine explains of her and CBID's research focus.
Her interests at GFS extend well beyond the STEM (science, technology, engineering and math) disciplines. She is passionate about dance and performs with and choreographs for the Advanced Dance class, sings with the Ragged Robins (the GFS a cappella group), is a member of the Math Club and co-leads the DaVinci Club, a student club interested in the exciting intersection of STEM and the arts. In January, she was one of three GFS student leaders who organized GFS's second annual "January for Jhpiego," a month-long program to raise funds for and awareness of women's and family health worldwide.
This spring, in the midst of deciding where to go to college and continue her career interest in biomedical engineering and public health, Katherine will enjoy a three-week Independent Senior Project at Roominate, a Silicon-Valley start-up by female engineers from Caltech, MIT and Stanford. With an innovative building tool—used in Garrison Forest's Lower School Imagineering program—Roominate's mission is to excite young girls about engineering.