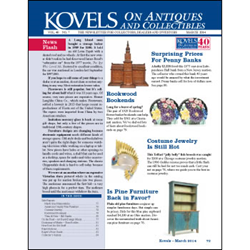 Cleveland, OH (PRWEB) February 27, 2014
Mardi Gras is New Orleans' biggest party and revelers celebrated early at three New Orleans auctions, where a large collection of Mardi Gras memorabilia sold for solid prices. Examples of jewelry, parade favors and ball invitations are pictured with prices in "Kovels on Antiques and Collectibles" March 2014 newsletter. A Trifari "jelly belly" fish pin sold for $100 at a Chicago costume jewelry auction, where some of the best pieces by well-known designers and companies topped $1,000. Vintage necklaces, earrings and pins by Chanel, Miriam Haskell, and others are pictured with prices in Kovels' March issue. And "Kovels on Antiques and Collectibles" newsletter continues to celebrate its 40th year of publication with a sale report featuring penny banks that sold for lots of dollars. A collector paid a hefty $39,200 for a cast-iron Palace bank at the New Jersey auction, where several of the more than 200 banks topped $1,000.
Rookwood collectors paid "art pottery prices" for early Rookwood bookends at a Cincinnati auction. A pair of 1929 flower-basket bookends that looked like a burst of spring sold for $561. Kovels' March newsletter lists some facts about Rookwood bookends along with more prices and pictures. And learn about country pine painted furniture. It may conjure up simpler farmhouse days, but bidders paid over $4,000 each for a one-piece cupboard and a mule chest at an Ohio auction. Pictures, descriptions and prices of more antique American pine furniture are in Kovels' March issue.
New Uses for Old Stuff pictures a clever new way to show off photos – especially for fishing fans. March's Dictionary of Marks lists American makers of glass bottles. The popular illustrated Collector's Gallery has answers to readers' questions about an old tavern table, a Klondike sugar and creamer, a "Blue Boar" tobacco humidor and a popcorn machine. The Buyer's Price Guide has current prices of 50 antiques and collectibles and also compares prices with its counterpart from March 1975.
"Kovels on Antiques and Collectibles" is available as a print subscription or as a digital version that is part of the Kovels.com Premium subscription.
Terry Kovel is America's foremost authority on antiques and collectibles. She is the well-known columnist and author of more than 100 books on antiques and collecting. With her daughter, Kim Kovel, she co-authors the best-selling annual "Kovels' Antiques and Collectibles Price Guide." They will discuss antiques and collectibles topics with accredited media. Photographs are available. Contact pr(at)kovels(dot)com.
About Kovels.com
Kovels.com, created by Terry Kovel and Kim Kovel, provides collectors and researchers with up-to-date and accurate information on antiques and collectibles. Kovels' Antiques was founded in 1953 by Terry Kovel and her late husband, Ralph. Since then, Kovels' Antiques has published some of America's most popular books and articles about antiques, including the best-selling "Kovels' Antiques and Collectibles Price Guide," now in its 46th edition. The Kovels' website, online since 1998, offers 900,000 free prices, and includes a free weekly email, "Kovels Komments." Kovels.com gives readers a bird's-eye view of the market through the latest news, auction reports, a Marks Dictionary, readers' questions with Kovels' answers and much more.
Contact Information:
Liz Lillis
216.752.2252
pr(at)kovels(dot)com