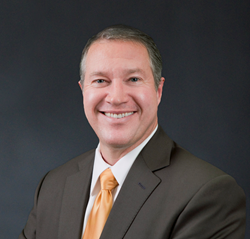 Mike's impressive success rate growing the firm and raising its visibility in New York has served our clients well.
New York (PRWEB) February 27, 2014
Michael Sweeney, PE, has been named HNTB's chairman of professional services. In this new role, he will be responsible for integrating and aligning HNTB's market sectors and services within the firm's five regional divisions to maximize opportunities throughout the U.S.
Sweeney will retain his role as New York Metro District leader, which he has held since joining HNTB in late 2012. In that time, Sweeney has overseen 44 percent growth in revenue and increased the number of professionals in the New York Metro area by 65 percent.
"Mike's impressive success rate growing the firm and raising its visibility in New York has served our clients well. His efforts will translate across all of HNTB's market sectors throughout the nation, helping transportation agencies address their increasing demands while ensuring the firm is working together effectively," said Rob Slimp, HNTB Infrastructure CEO.
Sweeney has 27 years of experience with the design and program management of major transit and transportation programs throughout the United States.
He is an active member of the American Public Transportation Association, including the high-speed rail committee; the American Railway Engineering and Maintenance-of-Way Association; a board member of the Regional Plan Association; and a member of the New York Building Congress. Sweeney holds a Master of Science in construction engineering and management from Polytechnic Institute of New York University and a Bachelor of Science in civil engineering from Pratt Institute.
HNTB Corporation is an employee-owned infrastructure solutions firm serving public and private owners and contractors. Celebrating a century of service, including more than 90 years in New York, HNTB understands the life cycle of infrastructure and addresses clients' most complex technical, financial and operational challenges. HNTB's New York offices currently employ more than 400 full-time professional in nine tri-state locations. Professionals nationwide deliver a full range of infrastructure-related services, including award-winning planning, design, program delivery and construction management. For more information, visit http://www.hntb.com.