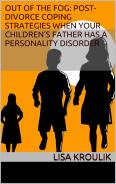 Every break-up has periods where the partners doubt themselves, feel low self-esteem, and go through periods of feeling angry. In a break-up with someone with a personality disorder, these normal emotions feel like they are on steroids.
Minneapolis, Minnesota (PRWEB) March 03, 2014
Despite the popularity of her first book, self-help author Lisa Kroulik felt the need to offer additional support to women who must continue to have some connection to their emotionally abusive former partner due to having children in common. The result is her just-released eBook, "Out of the Fog: Post-Divorce Coping Strategies When Your Children's Father Has a Personality Disorder."
Ending a marriage or a serious relationship is never easy, especially when children are involved. Even in the most amicable of break ups, people are certain to experience intense emotions like anger and sadness. When the former partner is a narcissist or has another serious personality disorder, moving on from the relationship is especially challenging. People who finally found the courage to leave their emotionally abusive partner may feel discouraged by having to remain in contact with him due to the kids. These exchanges can be as crazy making as they were when the victim of emotional abuse still lived with her former partner.
Author Lisa Kroulik divorced a narcissist over five years ago and lived to tell about it. As with her previous books, she uses an example from her own past relationship to show readers the types of situations they may encounter while attempting to co-parent with someone who has a personality disorder. Before doing so, she offers a helpful guide on the ten known personality disorders to assist women who are emotionally struggling in the aftermath of ending an unhealthy relationship. It is affirming for readers to know there is a name to describe the way their children's father still behaves.
After highlighting the characteristics of each personality disorder, the author discusses situations she has dealt with in the years since her divorce from her children's father. Recently separated readers may find themselves nodding in agreement, or they may remember the story later when their former partner attempts the exact same thing. Some of the topics Lisa Kroulik discusses include:

Dealing with the ex's new girlfriend
Communication tips when dealing with the personality disordered
Child support challenges
Providing children tools to handle their father's emotional manipulation
Relationships with former in-laws
Getting past feelings of hate
The author offers readers practical advice on what to do in these common situations without giving power to the former partner. She takes a humble, been there and done that approach to everything she shares in this book. Rather than count down the days until their child becomes an adult, readers can learn to detach from the crazy and enjoy life. After all, it is pointless to leave an emotionally abusive relationship only to continue the cycle in post-divorce parenting. Those who are still trying to identify and confront their partner's hurtful behavior may wish to read Lisa Kroulik's first book, "Emotional Assault: Recognizing an Abusive Partner's Bag of Tricks".
Product Details
File Size: 831 KB
Print Length: 81 pages
Simultaneous Device Usage: Unlimited
Sold by: Amazon Digital Services, Inc.
Language: English
ASIN: B00IO117BI
Text-to-Speech: Enabled
X-Ray:
Not Enabled
Lending: Enabled
ABOUT THE AUTHOR
Lisa Kroulik is a freelance writer who enjoys writing about abuse recovery and self-employment issues. Her previous eBook titles include:
"Emotional Assault: Recognizing an Abusive Partner's Bag of Tricks"
"Invisible Witness: How I Overcame My Family's Legacy of Domestic Violence"
"Money Making Mamas: Ditch Your Boss, Stay Home & Earn a Decent Income Working Online: *I've been doing it since 2001"
Lisa Kroulik has also written approximately 10,000 articles for clients geared towards SEO optimization since 2011. She is available to work independently with clients to help fulfill their content creation needs.