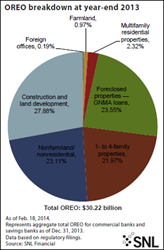 We're seeing the inflows of OREO really slow down. And we're seeing the disposition of OREO's properties at a pretty nice clip. So we're starting to see reductions in losses there as well.
(PRWEB) February 28, 2014
According to a report released today from SNL Financial, most banks have worked through the bulk of their credit issues at this point in the cycle and see a much slower formation of new problem credits. Real estate prices have improved as well, even in some of the hardest hit markets. U.S. home prices rose 11.3% in 2013 from the prior year and once-battered markets such as Las Vegas and Atlanta even posted sizable increases in valuations, rising 25.5% and 18.1%, respectively, from a year earlier.
Still, most banks have not seen improved pricing as an opportunity to purge their balance sheets of foreclosed real estate through bulk sales and still prefer to work out problem loans and sell foreclosed real estate on a one-off basis. The methodical approach has led to modest declines in the level of other real estate owned, or OREO, on bank balance sheets.
The overall level of OREO on bank balance sheets has fallen 5.0% from the prior quarter and 21.3% from a year earlier. OREO balances have fallen to the lowest level since the second quarter of 2009, though the workout process remains relatively slow and a sizable amount of mortgages remain in the process of foreclosure — close to 2.5x the amount of OREO on banks' books.
SNL data shows that OREO held at commercial banks and savings banks totaled $30.22 billion at the end of the fourth quarter, down from $38.42 billion a year earlier and $42.62 billion at the end of the fourth quarter of 2011.
Many banks reporting lower OREO balances say that inflows of foreclosed properties are slowing and valuations on seized properties have improved. For instance, Columbia, S.C.-based First Financial Holdings Inc. has worked through balances of problem loans that it often acquired through either failed-bank acquisitions or sales of distressed entities in the Southeastern markets and has reported notable declines in its OREO balances over the last few years. First Financial saw its OREO balances decline to 0.83% of assets in the fourth quarter from 0.95% in the prior quarter and 1.29% a year earlier and 2.15% two years earlier.
For the full report, visit http://www.snl.com/InteractiveX/Article.aspx?cdid=A-27031944-14377.