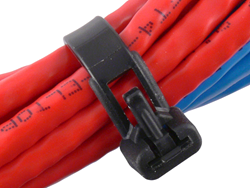 Our customers can snap open the bundle with just the press of a finger, thereby releasing the tie.
Quakertown, PA (PRWEB) February 28, 2014
Secure™ Cable Ties is prioritizing customer care to fully encompass its motto. And from the surge in website traffic, it is very clear as to whether they are doing it right. Secure™ Cable Ties has just reinforced its storefront with a latest edition that is bound to collect a huge customer following.
"As our commercial enterprise has taken the ladder to an increased customer base, we have constantly tried to satisfy the buyers. We have managed this by adding every fastening need under the sun, to our store," said George McDowell, product executive with Secure™ Cable Ties. "This latest addition of Secure™ Releasable Cable Ties is another such addition. It is bound to help our customers add that extra quotient of versatility to their cabling needs."
When asked, why the need to purchase a Releasable Cable Tie might arise, George explained, "In many instances, people have to set up the cabling in areas where there might be a need to move away from the source and reinstate in another zone. Or the customer might need to add some extra cabling when they increase their business or household merchandise. In such cases, stainless steel and nylon ties are a hassle to remove and add that extra stretch. With these Releasable Cable Ties from Secure™, our customers can snap open the bundle with just the press of a finger, thereby releasing the tie."
It shortly became clear to us as to the flexibility that is proffered by this type of cable tie. However, we had one question still bothering us. How would the versatility fare under different cabling prerequisites? "The Secure™ Releasable Cable Ties that we are offering, range from lengths of 4 inches to 21 inches. At the same time, each of these come with different types of strength capability."
Jeramie Cavanaugh, a senior marketing consultant added, "The Secure™ Releasable Cable Ties come along with a UL Flame Rating. And all of the ties are manufactured of 6/6 Nylon. To append to that, the black color variants all have UV protection on them."
We inquired Jeramie regarding the strength of the cable ties. "Secure™ manufactures these releasable cable ties and they have a presumed idea about the load that a particular cable tie can bear. The tensile strength increases from 18lbs. for a 4 inch tie to 100 lbs. for a 21 inch tie."
We personally realized the opportunities that the different combinations of length, strength and color can provide for the customer. "That is what we try to do. That is our driving principle, here at Secure™ Cable Ties," said Jeramie.
By making such principles their stronghold and USP, Secure™ Cable Ties is going flourish its presence in the online setup. Readers who are interested to know more about the Secure™ Releasable Cable Ties can visit the website; Securecableties.com or contact on the below mentioned company information. Alternatively, an online chat is also available with the representatives, at Secure™ Cable Ties.