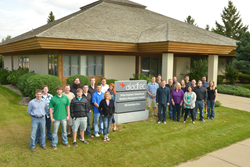 Because we are a smaller volunteer service we really value the amount of time EMS Manager saves us. I save as much as 20 hours a week now.
Hudson, WI (PRWEB) February 27, 2014
Aladtec, Inc., the maker of EMS Manager, FIRE Manager and Zanager, is perhaps the most popular provider of online employee scheduling and workforce management systems within the Public Safety Sector.
Flagship product EMS Manager, was developed in 2002 to help Wisconsin's Ellsworth Area Ambulance Service with their scheduling issues by creating a system that was available via the Internet. Over the years EMS Manager has continued to progress into a powerful tool for hundreds of agencies throughout North America.
The success of EMS Manager prompted the development of FIRE Manager - created specifically for fire departments. A third product, Zanager, was added to Aladtec's product line to offer their popular system to a variety of other industries. Zanager serves law enforcement, long term care, hospitality, public utilities and many other industries.
The main reason an agency invests in one of Aladtec's subscription based software products is because whatever method they were using before simply wasn't adequate. Using a paper calendar or a spreadsheet just doesn't cut it any more. Agencies and companies are turning to online software systems to save time, reduce errors and increase efficiencies within their organizations.
The Aladtec online software product line is much more than just a scheduling tool. Their systems also feature:
-Mobility - the system is accessible 24/7 from any computer, smartphone or mobile device with Internet access
-Employee data management - easily store and access contact information, certifications, etc.
-Event calendar - post training sessions, meetings and public appearances
-Library - share documents, training videos and meeting notes with staff
-Forms - create forms within the system to track vehicles maintenance, inventory, etc.
-Payroll integration - export work hours to various payroll software systems
-Reporting capabilities - create custom reports with any data within the system
-Messaging - email or text message individuals, groups or all employees immediately
-Forum - engage staff in discussions and host conversations
-System log - keep track of all activities within the system - no more he said she said
-Sync Calendars - sync personal and work calendars into one
-Time Clock - an add-on option for time and attendance verification
People use online conveniences every day to save time and make their life easier. They jump online for banking, emailing, accounting, entertainment and the term "google it" is common place. Corporations are also turning to online software to save time and improve efficiencies. Aladtec's online employee scheduling and workforce management systems are another way for organizations and businesses to save time and save money.
Supporting Quotes:
"Because we are a smaller volunteer service we really value the amount of time EMS Manager saves us. I save as much as 20 hours a week now. It used to take me hours and hours to create the schedules, balance shifts and figure out who was available when. This online crew scheduling system is great for morale, it's easy to navigate, it's user friendly, it provides great assistance in seeing a snapshot of what is going on, and it's a huge communication improvement for our department."
-Eric Strout, Director, G&H Ambulance Service, Glenburn, Maine
"FIRE Manager's Event Calendar has been a great help to us. We now have all our public education on the calendar along with our training schedule. In the past, a lot of paper was used to print this out with updates coming almost every day. And, I believe all our fire department members use the mobile app to be able to see their days off, work, and receive text messages about trades. Lastly, payroll has become a lot easier. I'm told that over two hours worth of work for payroll has gone down to forty-five minutes using reports from the FIRE Manager system."
-Paul Gardner Jr., Deputy Chief, Berwyn Fire Department, Berwyn, IL
"The Zanager availability feature prevents double booking staff, which previously was an issue. I can also control overtime which is a definite cost savings benefit. I also love the certification tracking aspect. It was a nightmare to track certifications on all the employees, now I can keep on top of who is current or not current without a problem."
-Luke Clement, Director of Track Services and Special Events, Iowa Speedway, Newton, IA
"What we like about EMS Manager is: the ability to set-up repeats and rotations; the ability for staff to enter in time off; their ability to pick-up shifts with little management involvement; and the ability to access our schedule through the Internet from anywhere at any time."
-Carl Homa, Operations Manager,Temple Health System Transport Team, Philadelphia, PA
ABOUT ALADTEC:
Aladtec, Inc. is a proud provider of web-based software solutions for online employee scheduling and workforce management applications. The company's flagship products, EMS Manager and FIRE Manager, are leaders in the public safety sector. Together with their newest product, Zanager, they serve more than 1,000 EMS agencies, fire departments, police departments and other businesses. Over 70,000 employees use Aladtec's online employee scheduling and workforce management products. Aladtec is headquartered just outside the Minneapolis/St. Paul metro area in Hudson, Wisconsin. For more information, visit http://www.aladtec.com.
# # #
CONTACT INFORMATION:
Aladtec, Inc.
906 Dominion Drive
Hudson, WI 54016-4538
(888) 749-5550 Toll-Free
(715) 690-2300 Phone
(801) 406-5550 Fax