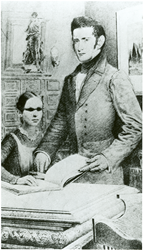 I am only one, but still I am one. I cannot do everything, but still I can do something. - Helen Keller
Watertown, Mass. (PRWEB) February 28, 2014
Sunday, March 2, 2014, marks the 185th anniversary of Perkins in Watertown, Massachusetts. On that date in 1829, Massachusetts chartered the first school in America for children who are blind.
Perkins has since grown into an internationally renowned organization and thought leader in education. Its history is rich in remarkable characters. Just eight years after it was established, founding director Dr. Samuel Gridley Howe brought Laura Bridgman to Perkins (pictured) where she became the first person with deafblindness in the world to receive a formal education. Perkins hosted Charles Dickens in 1842. The wife of the founding director, Julia Ward Howe, wrote "The Battle Hymn of the Republic." Anne Sullivan, "The Miracle Worker," was valedictorian of the 1886 graduating class at Perkins the year before she went to Tuscumbia, Alabama, to teach Helen Keller. She was Helen's mentor and interpreter until her death. Perkins rejected Henry David Thoreau's job application, warmly welcomed the volunteer services of Amelia Earhart, launched jazz and bluesman Ellis Hall, and fired Joan Baez for going barefoot. This past fall, Olympic runner Marla Runyan – the first visually impaired person to ever compete in the Olympics – joined Perkins' staff as a teacher and spokesperson. It's easy to understand why the Perkins motto is "All we see is possibility."
For 185 years, Perkins has led innovations in educating people who are blind, deafblind or visually impaired with additional abilities. That leadership continues today through new directions in literacy and technology. The Perkins Brailler – designed in 1951 and still manufactured on the Watertown campus – is the most commonly used braille typewriter in the world. The Perkins Products division (formerly Howe Press) updated the original Perkins Brailler in 2008 to create the award-winning high-tech Perkins SMART Brailler® and through a novel partnership with Philips Color Kinetics, recently introduced the Light Aide® LED-based learning tool for young children with low vision which was conceived by the parent of a Perkins student.
In 2011, Perkins dedicated The Grousbeck Center for Students & Technology, a focal point of student social life, professional training, community connection and innovation. From state-of-the-art architecture and building engineering to the student-programs run internet radio station, Radio Perkins, the Grousbeck Center captures the spirit of the future at Perkins.
Perkins was recognized for its exceptional services in the U.S. when it was tapped by the FCC to create iCanConnect.org as part of a national program that provides free equipment to people who are deafblind so that they can engage directly with family, friends and society at large.
Worldwide, Perkins has partner programs in 67 countries where shared expertise and a common commitment to bring educational opportunities to all children is transforming lives and building sustainable programs.
Helen Keller said. "I am only one, but still I am one. I cannot do everything, but still I can do something; and because I cannot do everything, I will not refuse to do something that I can do." With that inspiration, Perkins looks to the next 185 years.
Perkins is celebrating its 185th year of providing education, services and products to people who are blind, deafblind, or visually impaired with other disabilities. Founded in 1829, Perkins works locally and globally reaching more than 880,000 people each year in 67 countries. Perkins helps to build productive and meaningful lives through its five divisions: School for the Blind, International, Library, eLearning, and Products. Learn more at http://www.Perkins.org.