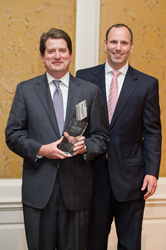 Houston, TX (PRWEB) March 04, 2014
NAIOP Houston recognized Mark O'Donnell, David Providenti and Kelly Givens with Studley as the 2013 Office Deal of the Year during the 2013 Annual Broker of the Year Awards on February 19th at River Oaks Country Club. Honoring Houston's most respected and successful commercial real estate brokers and firms, the awards recognize professionalism, community involvement, and total value of real estate transactions with an emphasis on local tenant representation lease transactions.
Studley was honored for its office lease transaction of 581,000 square feet, for tenant, major global E&P player, Statoil Gulf Services at CityWestPlace in Houston, TX. Studley managed to successfully navigate through all of the complexities of the agreement – including multiple buildings and lenders, restrictive covenants, necessity for room for growth and enhanced brand awareness – to facilitate a top-notch, strategic and comprehensive solution that exceeded Statoil's expectations and goals.
"The multiple intricacies of this transaction made it unique and we are elated that NAIOP recognized this," says O'Donnell. "The transaction will positively impact the Houston community with the emergence of over 1,000 new jobs over time."
"This award is recognized throughout the industry as a pinnacle achievement for real estate professionals. For twenty-six years, NAIOP Houston has selected top tier brokers for this honor so that the real estate community could express its appreciation for their contributions to the office and industrial sectors, as well as the greater Houston community at large," states Edward Griffin, President of NAIOP Houston.
About Studley
Studley is the leading global commercial real estate services firm specializing in tenant representation. Founded in 1954, Studley pioneered the conflict-free business model of representing only tenants in their commercial real estate transactions. With over 60 offices worldwide, Studley offers expert advisory services, including brokerage, project management, corporate services and strategic portfolio solutions. Studley's unique approach examines every client's business to fully understand corporate objectives and optimize real estate assets. For more information, please visit http://www.studley.com and follow us on Twitter @StudleyInc and LinkedIn.
###