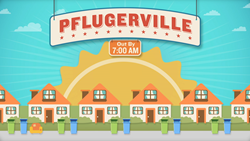 With this commercial, we have made recycling education fun.
Pflugerville, TX (PRWEB) February 28, 2014
The city of Pflugerville, TX has partnered with Austin advertising agency Big Blue Sky to launch an advertising campaign to promote the city's recycling program and increase the number of Pflugerville households that recycle.
Produced in conjunction with the city's recycling service provider Progressive Waste Solutions, the campaign is anchored by a new commercial that aims to educate residents on the specifics of recycling.
"With this commercial, we have made recycling education fun," Big Blue Sky Partner Tony Lopez said. "The commercial turns instructions about curbside pickup and the importance of recycling into a musical piece that people will remember."
Going along to the catchy tune sung by local Austin artist Taylor Baker and produced by MuzicWiz Productions, the animated commercial shows residents the step by step ways Pflugerville residents can recycle. Key messages include putting your trash and recycle cart out at the curb by 7 a.m., spacing 5 feet between the trash and recycle cart because it assists with pickup, and consulting the sticker on the lid of the recycle cart to evaluate what can be recycled.
Progressive Waste Solutions Manager Gerry Rieger hopes the video will encourage further participation in the already successful curbside recycling campaign.
"Back in 2009 Progressive Waste Solutions collected 694 tons of recyclables curbside in Pflugerville, and since then, in 2013 there were 3792 tons of recyclables kept out of landfills," Rieger said. "We are at a 65% household recycling participation rate in Pflugerville and want to increase participation because it helps keep costs down for the residents and is good for the environment. As the video says, that's what we're all about."
The commercial will run in the Pflugerville movie theater, on Public Access Channel PFTV and be used for educational purposes by both Progressive Waste Solutions and the city of Pflugerville. View the commercial on YouTube.