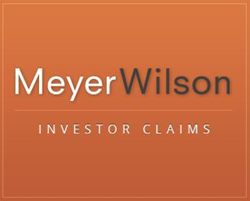 Columbus, OH (PRWEB) February 27, 2014
Meyer Wilson is a full service investment fraud law firm that provides nationwide representation to clients who have suffered financial losses at the hands of stockbrokers, brokerage firms, financial advisors, and insurance companies. By focusing exclusively on investor claims and class actions, the firm has been able to establish a focused, trusted, and highly regarded practice that helps clients recover losses caused by investment misconduct. Throughout the years, the firm has represented more than 800 investors and has recovered millions of dollars on their behalves.
For years, the firm's investment fraud attorneys have been recognized for their unique focus, team approach, attention to detail, and extensive experience – and have earned continual recognition and distinctions from their legal peers. Just recently, the firm was named to the prestigious 2014 list of "Best Law Firms" by U.S. News & World Report.
U.S. News "Best Law Firms" rankings are based on a multi-phase selection process that consists of client and lawyer evaluations, thorough peer reviews, and a formal evaluation process. Firms selected to the list are chosen based on their expertise and success in a particular practice area and metro region. Each law firm selected must also have at least one attorney who is included in the "Best Lawyers" rankings. Meyer Wilson has been named to the list of "Best Law Firms" in the field of Professional Malpractice Law.
Meyer Wilson's selection to the "Best Law Firms" list speaks volumes about the firm's lawyers and their ability to continually secure the results and recoveries their clients need. With office locations in Ohio and California, the firm has helped investors across the country in matters related to securities arbitration, mediation, and litigation. Their passion for the law, unwavering commitment to clients, and unique, intimate approach to working cases has proven to be a recipe for success, and one that continues to drive successful resolutions for the firm's clients. More information about Meyer Wilson and the cases the firm's attorneys handle can be found on the firm's website: http://www.investorclaims.com.
Meyer Wilson focuses exclusively on handling investor claims and class actions on behalf of clients who suffered financial losses caused by investment misconduct. The firm's legal team is comprised of experienced and compassionate lawyers who take the time to understand each client's unique situation and needs. The firm has offices locations in Ohio and California and works with clients throughout the nation.