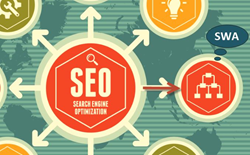 Be relevant and reputable... --Matt Cutts of Google
Charlotte, NC (PRWEB) February 27, 2014
Oyea 2 Enterprises, LLC, web-based research and service group, discovers the opportunities in the use of silo architecture for SEO-website benefits. The dynamic growth of the web continues and the factors catapulting hordes of interneters to 'success' will ever be a moving target. With a plethora of prerequisites and barriers to entry multiplying by the minute, time, tide and technology wait for no one.
"It has been clear from the beginning to some, and others have recognized along their way. At this point, you'd have to be living under a rock to be oblivious to the facts. The current business environment is part of a world economy. If you're in business and ignore the ballyhoo of internet marketing, your train has left the station. Not to be left behind indefinitely, we have adopted the attitude of the lifelong learner. SEO Website Silo Architecture is another step in that direction." --Gerald Woodson, director of OYea 2 Enterprises, LLC.
Research will reveal that less talk and more action is the order of the day. The internet is a teenager and like most in its age group, less is more: less talk and more action, less explanation of advanced concepts and more implementation in the background. Like a clandestine mission team, those engaged in gaining ground at all costs have quietly invested in their own ongoing education.
To that end, OYea2.com is acting on the market indicators' suggestions. As health-wealth-happiness is its guiding theme, self-improvement, education, awakening, and spiritual growth are compatible topics. It also includes health and well-being, science and technology, and the list goes on, becoming more mind-numbing for the individual web surfer. It is all personal development, but guidance is required. The goal is a life balanced. Hence, OYea2.com is incorporating Silo Website Architecture (SWA) to make its target audience feel more at home during their search pursuits.
More valuable info can be found at http://oyea2.com (this site is under construction and redirected to http://oyea2.org).
About OYEA 2 Enterprises, LLC:
The mission of Oyea 2 Enterprises, LLC is to provide quality information on the pursuit of health, wealth, and happiness for raising self-awareness worldwide.
The vision is to express the mission through the distribution of information products (literature, music, and video) and related services. Oyea 2 Enterprises, LLC began its service to the Charlotte, NC community in 1984 as Oyea Music (BMI), a recording studio for solo musicians. Through the years, the mission has mushroomed to include composition, audio post–production, and video production. Since 1995, Woodson has engaged in self-disciplinary study of customer service and technical support. In the growing internet marketing space, transformations continue and the demands for ongoing education push the envelope more each year. For the last 21 months, Oyea Music has been focused on expanding its marketing efforts online. Consolidating its music, video, research, and writing expertise into one business entity, Oyea 2 Enterprises, LLC is the unified product engine.