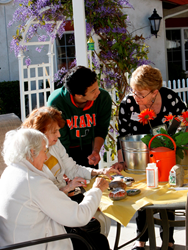 San Juan Capistrano, CA (PRWEB) February 27, 2014
Through the JSerra Catholic High School Business Magnet Program, students team up with local businesses – including Silverado San Juan Capistrano – for a unique education experience that takes them out of the classroom and into the real world.
The four-year Business Magnet Program is composed of instructional courses combined with simulation-based education. Silverado – an assisted living community for those with memory impairments – each year participates as a host to one of the JSerra interns, who visits the community weekly during a semester.
"Student interactions with the Silverado staff has been a very positive experience, helping to set the stage for future business leaders," shares Carol Chaffee, Director Business Magnet Program at JSerra. "As part of the hands-on experience, our students even work on a semester-long project that benefits their host business."
At Silverado, students work one-on-one with the community's leadership team to experience every part of the business, from the cost of running a business to how to mentor staff to ensure they experience job satisfaction.
"Working with the residents and top notch professionals at Silverado has been more than an internship, it's been a life-altering experience," says Student Aaron Choi. One of my biggest discoveries is the importance of details in not only business but in anticipating the needs of others."
Programs of this caliber are generally designed for college students – truly giving these high school students a solid foundation. When they graduate, the Business Magnet Program students receive a special citation on their diplomas and often go on to compete at the nation's most prestigious business schools.
"This is a wonderful educational program for the students as they learn about career paths they can set their sights on as well as the value they add to a senior's life," shares Carole Shaw, Senior Administrator of Silverado San Juan Capistrano. "It's inspiring to see the passion and drive these young people have as they learn from, and work side-by-side with, the Silverado team."
To learn more about the program, please visit the JSerra website. For more about Silverado San Juan Capistrano, please visit: silveradocare.com.
About JSerra Catholic High School
One of the region's top college preparatory institutions, JSerra Catholic High School provides exceptional students with an enriched academic experience. The youngest school in the Trinity League; 99 percent of our scholars continue their education at the college level and have been awarded over $44 million in grants and scholarships to universities worldwide. Led by faith, intellect and character, our unique learning environment offers four Professional Magnet Programs, an Artist-in-Residence Program and has been named one of the best 50 Catholic High Schools in the U.S. by Catholic Honor Roll. To learn more about JSerra, please visit http://www.jserra.org.
About Silverado
Silverado was founded in 1996 with the goal of enriching lives of those with memory loss by changing how the world cares for and perceives the cultural stigma of cognitive decline. With locations in eight states – including Arizona, California, Colorado, Illinois, Texas, Utah, Washington and Wisconsin – the company delivers exceptional care and unmatched service to address the spectrum of changing needs, for individuals and families alike. To learn more, visit silveradocare.com or call (866) 522-8125.
Media Contacts:
Alicia Vargas-Pharis
949-493-9307 Ext. 1150
alicia.vargas(at)jserra(dot)org
David Gill
(714) 624-2550
dgill(at)silveradocare(dot)com