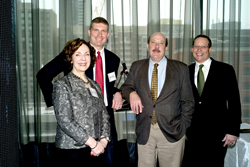 In the digital space it's about content. Delivering rich and useful content is a focus because it's important to consumers, important for business travelers, and important for our hoteliers to build trust with travelers through their content,"said Dowling
Toronto (PRWEB) February 27, 2014
A frigid winter has done little to cool optimism about the bright business outlook in Canada, said senior travel executives at the annual Business Travel Summit in Toronto. Executives from Best Western International, the Hotel Association of Canada (HAC) and Vision Travel Solutions cited steadily improving economies in the U.S. and Canada, and the continued growth of new content and booking channels, as reasons to expect 2014 to be another successful year for Canadian business travel.
To view video click here: http://www.youtube.com/watch?v=WStm_1vpgbI&feature=youtu.be
Referencing the recently completed Hotel Association of Canada Annual Travel Survey, HAC President Tony Pollard said the prairie provinces and British Columbia are expected to be the hottest markets for business travel in Canada, with the latter forecasted for 4 percent year-over-year growth. Vision Travel Solutions Chief Operating Officer Brian Robertson reported that business travel growth is running a little behind last year's breakneck pace, but the numbers are still very strong and peaking in the high-single digits.
Best Western International is also coming off an impressive performance in 2013, when the brand led all Canadian hotels in the broad mid-scale market in revenue per available room. According to Best Western's Senior Vice President of Marketing and Sales, Dorothy Dowling, 2014 first quarter results point to a "very, very strong year in terms of overall performance."
Despite the recent success, Dowling said Best Western will continue to be very aggressive in its efforts to take market share, as hotel supply begins to catch-up to demand. The brand's primary weapon in the share battle is increased investment in new content channels, including the continued relationship with peer review leader TripAdvisor and the roll-out of Google Business Photos at all of the brand's 2,200 North American hotels, a first for the industry.
"In the digital space it's about content. Delivering rich and useful content is a focus because it's important to consumers, important for business travelers, and at the end of the day it's important for our hoteliers to be able to build trust with travelers through their content," said Dowling.
Robertson echoed the need for those on the procurement side to improve their content channels in order to keep up with the evolving needs of today's business travelers. "The trend is that business is becoming so global that we have to operate in basically a virtual environment, where we have people available at all times to look after our travelers."
Striking a balance between expanding digital channels and still maintaining high-touch personal service was also a common theme during the panel discussion. Robertson and Dowling both emphasized the continued need to provide recognition and personal attention to frequent travelers, especially through loyalty programs, as those can be key differentiators for road warriors choosing between the myriad of loyalty offerings in the travel space.
Pollard said survey data backs up the claims that loyalty continues to be of growing importance for Canadian travelers, with nearly 60 percent of respondents calling loyalty programs very important, compared to only 19 percent in 2007. But the data also shows that loyalty points have to be accompanied by a great customer experience in order for hotels or airlines to truly be successful.
"What is the number one thing people are looking for? Year-in, year-out, it is friendly service," explained Pollard, referencing results from the 10 years HAC has been conducting its annual survey. "Seventy-nine percent nationally say friendly service is the number one thing."
While the outlook for Canadian business travel is unquestionably bright, panelists were clear to also note that 2014 will not be without its challenges. Paramount among these is stemming the tide of Canadian travelers flocking to U.S. airports because of lower airfares and continuing to invest in ways to drive inbound travel from the U.S. All were in agreement that navigating these potential pitfalls will require a united effort.
"The collective nature of us working together, and leaning into each other's strengths, makes all of us much more powerful in our ability to solve problems," said Dowling. "I think the industry as a whole really needs to do those kinds of things to move market share, to really position the brand of Canada globally, and to also solve for a lot of the needs that business travelers have today."
To view a video recapping the Business Travel Summit, please visit the Best Western YouTube Page here.
About Best Western International
Best Western International, Inc., headquartered in Phoenix, Ariz., is a privately held hotel brand made up of more than 4,000* BEST WESTERN®, BEST WESTERN PLUS, BEST WESTERN PREMIER hotels in more than 100* countries and territories worldwide. Now celebrating 67 years of hospitality, Best Western welcomes hundreds of thousands of guests nightly. Best Western provides its hoteliers with global operational, sales, marketing and promotional support, and online and mobile booking capabilities. More than 15 million travelers are members of the brand's award-winning loyalty program Best Western Rewards®, one of the few programs in which members earn points that never expire and can be redeemed at any Best Western hotel worldwide. The brand's partnerships with AAA/CAA, race car driver Michael Waltrip, and Harley-Davidson® provide travelers with exciting ways to interact with the brand. In 2012, Best Western won a record number of awards, including AAA's Hotel Partner of the Year, CAA's Partner of the Year, TravelClick's eMarketer of the Year and Compuware's Best of the Web Gold awards. For more information or to make a reservation, please visit http://www.bestwestern.com.
About Vision Travel Solutions
Vision Travel is the largest Canadian-owned and operated travel management company, employing nearly 600 travel professionals and processing almost $600 million dollars in annual sales. The company has been providing a full range of corporate, meetings & incentives and leisure travel services from coast to coast to a wide spectrum of Canadian companies since 1953. Vision Travel is a leading member of Virtuoso, the world's most prestigious travel network, and the Canadian shareholder in Radius Travel, one of the world's largest travel management organizations. We are a company committed to a more personalized and responsive approach to the business of travel.
About Hotel Association of Canada
The Hotel Association of Canada is the effective voice of the Canadian Hotel & Lodging industry. For over 100 years, it has worked to enhance the prosperity of the Canadian Hotel and Lodging Industry through strong member engagement, effective advocacy, and the provision of value added programs and services. The Hotel Association represents more than 8,500 hotels, motels and resorts that encompass the $17 billion Canadian hotel industry which employs 290,000 people across Canada. http://www.hotelassociation.ca.
###