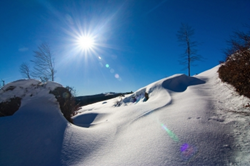 Boca Raton, Florida (PRWEB) February 28, 2014
Consumers often wrongly assume that if they are taking good care of their hair by getting regular trims, washing and conditioning consistently and avoiding chemical treatments and hot tools that they are in the clear from damaged locks. But according to the specialists at leading hair restoration company Hair Club® (http://www.hairclub.com), that's simply not the case. Environmental damage caused by the sun, wind and cold may be putting your strands at risk for hair loss.
If your hair has been looking unusually limp and lifeless lately or shedding more than usual, it could be a result of environmental elements, capable of affecting hair on even the healthiest scalps.
Damaged hair tends to be hard to manage, dull, dry, porous and worst of all—susceptible to breakage. Healthy hair, on the other hand, has a smooth, tightly closed cuticle layer that protects the inner cortex from drying out. The cuticle layer allows hair to maintain its moisture balance and gives hair its elasticity, strength and shine that make it much more prone to good hair days.
Because keeping your hair healthy plays a major roll in preventing hair loss, the hair loss experts at Hair Club want to share three ways Mother Nature could be getting in the way of good hair days and what to do about it:
1. Cold weather dries hair out quicker than warm weather because there is less humidity in the air. The dryness combined with the cold makes hair brittle and susceptible to breakage.
Solution: Use deep conditioning treatments weekly to prevent the hair from drying out.
2. Wind tangles the hair and causes individual strands to rub together. This can cause enough friction to damage the cuticle layer, weakening the hair shaft and leading to breakage.
Solution: Use conditioners and leave-in treatments to reduce the friction between strands and prevent tangles.
3. The sun is shining, even when you don't see it, and its ultraviolet rays can break down the keratin and melanin in the cuticle and cortex of the hair. This weakens, lightens and dries out the hair over time.
Solution: In addition to conditioner, use products with UV-protecting sun block to shield the hair from harmful rays.
If hair damage is causing you to shed extra strands, you can do something about it. Hair Club offers custom solutions to help men and women get their hair back, fast or prevent further loss. For more information on Hair Club's all-proven hair loss solutions, call 888-847-4344 or visit hairclub.com. There's no pressure or obligations. For more information on maintaining healthy hair, visit blog.hairclub.com.
About Hair Club:
Founded in 1976 by Sy Sperling, Hair Club is the leader in hair restoration and the largest company in the industry offering all proven hair loss solutions. Hair Club has granted more than 500,000 men, women, and children an experience that truly changed their lives. Today, Hair Club has 100 locations throughout the United States, Canada, and Puerto Rico and is a wholly-owned subsidiary of Tokyo-based Aderans Co. Ltd, the world's leading provider of total hair loss solutions. Aderans brands in the U.S. include Bosley.
*If you wish to reuse the content of this press release, please include a link to hairclub.com.