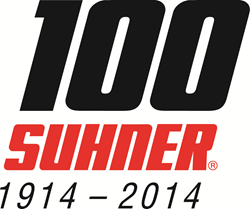 Rome, GA (PRWEB) March 01, 2014
This year, Suhner can look back on one hundred years of history. Since its very beginnings, the company has been powered by innovation and quality. Founded towards the end of 1914 in Brugg in the Swiss canton of Aargau, the company has been focusing on custom solutions, quality, and precision ever since.
Innovation, specialization, and custom diversification take the form of a constant stream of ergonomic, powerful, and robust power/pneumatic tools and flexible shaft machines designed specifically for aluminum, stainless steel, mold making, aircraft maintenance, and stone working. This high tech portfolio is rounded off by a range of high efficiency abrasives and a program of practical training courses and seminars. Yet cost effectiveness and efficiency never lose their prominent position.
At Suhner, quality is not a matter of course, but the outcome of many years of experience and a continuous improvement process. This also applies to the highly motivated employees. As specialists in their respective fields, they know that satisfied customers are not the result of high gloss brochures, but of resourceful onsite solutions in conjunction with inventiveness and practical engineering experience. A new Suhner Abrasive Expert website for grinders and abrasives will soon be supplementing the wide range of services provided by this family powerhouse of ideas.
For more information, please contact:
Geoff Moore
Director of Sales and Marketing
Suhner Industrial Products, LLC
43 Anderson Road SE
Rome, GA 30161
706-235-8046
geoff.moore(at)suhner(dot)com