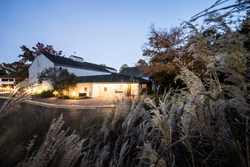 Vienna, Virginia (PRWEB) February 28, 2014
Crystal Bowersox
Wednesday, March 26, 2014 at 8 pm
$24–$28
Former American Idol runner-up Crystal Bowersox has managed to gain more than the traditional 15 minutes of fame by having a voice that crosses the territories of blues, country, folk, and rock. Since the television show, she has had the honor of performing with music icons such as Harry Connick, Jr., Alanis Morissette, and B.B. King and has been praised by The Washington Post for having "a voice incapable of artifice." Bowersox last year released her sophomore record, All That for This, on which she demonstrates a touching maturity and profundity in her original songs—one of which is "Stitches," a duet with The Wallflowers' Jakob Dylan. "Bowersox expertly works the territory between folk and country…her best moments are…subtle, with a touch of twang and fragility."—The Chicago Tribune
Video: Crystal Bowersox – "Me and Bobby McGee"
Red Molly
Thursday, March 27, 2014 at 8 pm
$22
The Americana trio Red Molly has appeared across the country in folk festivals such as Telluride Americana Music Fest, MerleFest, and RockyGrass. The group has an eclectic repertoire that includes bluegrass-infused ballads and jazzy Western swing numbers, and has been hailed by The Boston Globe for its "crystalline vocals and caramel harmonies." Laurie MacAllister (banjo, bass), Abbie Gardner (dobro, banjo), and Carolann Solebello (guitar, bass) formed Red Molly in 2004 in New York City. In 2010, Solebello stepped down and Austin, Texas–based vocalist Molly Venter (guitar) joined the group. Light in the Sky, the group's 2011 album, remained on the Americana Music Association's Top 40 radio chart for 20 weeks and was named Folk DJ's No. 3 Top Album of 2012. The group plans to release a new album in 2014.
Video: Red Molly – "Hello Goodbye"
Brentano Quartet
A Late Quartet
The Discovery Series
Friday, March 28, 2014 at 8 pm
$35
The Brentano Quartet was first established in 1992 and has since appeared throughout the world to both popular and critical acclaim. Soon after its commencement, the group was presented with the first Cleveland Quartet Award and the Naumburg Chamber Music Award. The Quartet has traveled widely across the United States, Canada, Europe, Japan, and Australia, performing in remarkable venues such as Carnegie Hall in New York City, Suntory Hall in Tokyo, the Library of Congress in Washington, D.C., and the Sydney Opera House in Australia. The group's music also was featured in the motion picture A Late Quartet, the story of the members of a fictional quartet and the challenges leading up to their 25th anniversary concert. While at The Barns, the Brentano Quartet will perform an evening of Beethoven, including the iconic Op. 131. Ticket holders are invited to a private screening of the movie A Late Quartet on Sunday, March 23 at 3 pm. Please rsvp to the screening at classicalprogramming(at)wolftrap(dot)org.
Video: Brentano String Quartet – Mendelssohn Op. 80
Tickets can be purchased by calling 1.877.WOLFTRAP or online at wolftrap.org.
For more information, call The Barns at Wolf Trap at 703.938.2404 or our general information line at 703.255.1900.
High-resolution images of the artists listed are available on Wolf Trap's website: wolftrap.org/Media_and_Newsroom/Photos_for_Publication.aspx.
###