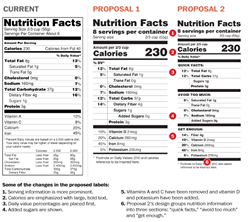 Washington, DC (PRWEB) February 27, 2014
"For too long the labeling on serving size has been misleading and not useful. Too often single serving packages are labeled as several servings to reduce the label calorie count. Because of today's FDA action, those practices will be a thing of the past," said Dr. Jane L. Delgado, President and CEO of the National Alliance for Hispanic, the nation's leading Hispanic health advocacy group.
The Food and Drug Administration (FDA) today proposed food label changes that could go into effect after a 90-day public comment period. Among the changes proposed are putting in bold and large typeface the number of servings per container as well as for the first time putting the amount of added sugars on the food label.
"Parents may soon be able to go to their grocery store or local bodega and more easily know if a product is healthy for their family by reading the label," said Dr. Delgado. "We are particularly pleased that the amount of added sugars will be on the label. Already, one in seven calories consumed by Hispanic youth are from added sugars in products like soda. This food label change will give all of us better information and allow more informed choices."
The Alliance announced that consumers who want information on how to read the current food label and proposed changes to the food label can call the Alliance's bilingual Su Familia helpline at 1-866-783-2645.
Editors Note: Current and proposed food label graphics at hispanichealth.org/food-label.html.
###
About the National Alliance for Hispanic Health (The Alliance)
The Alliance is the nation's foremost science-based source of information and trusted advocate for the health of Hispanics in the United States. The Alliance represents thousands of Hispanic health providers across the nation providing services to more than 15 million each year, making a daily difference in the lives of Hispanic communities and families. For more information, visit http://www.hispanichealth.org or call the Alliance's Su Familia National Hispanic Family Health Helpline at 1-866-783-2645.