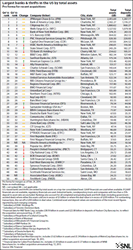 New York, New York (PRWEB) March 03, 2014
In a report released today, no changes were seen in the largest banks and thrifts in the final quarter of 2013. JPMorgan Chase & Co. and Bank of America Corp. remain the only companies to have more than $2 trillion in assets, according to SNL Financial's latest ranking of the largest 50 banks and thrifts by assets.
Green Bay, Wis.-based Associated Banc-Corp returns to the top 50 list while Utrecht-America Holdings Inc., the U.S. unit of Netherlands-based Rabobank Group, joined the ranking for the first time.
The two banks replace Memphis, Tenn.-based First Horizon National Corp. and Pasadena, Calif.-based IMB HoldCo LLC, which were present on the third-quarter 2013 list.
Utrecht-America Holdings enters the list with $36.04 billion in assets and $10.56 billion in deposits as of Dec. 31, 2013. The institution had not appeared on SNL's previous rankings because its deposits were less than 25% of assets. The company saw a $16.27 billion drop in assets during the fourth quarter of 2013, which brought its deposits-to-assets ratio up to 29.29%.
PNC Financial Services Group Inc. moved up to No. 7 from No. 8 and Capital One Financial Corp. rose to No. 8 from No. 9. State Street Corp. managed to jump into the top 10 from No. 11 with a $26.11 billion boost in assets during the fourth quarter of 2013. Much of the increase can be attributed to a rise in interest-bearing deposits held at financial institutions. HSBC North America Holdings Inc. ended 2013 with a $19.30 billion drop in assets during the fourth quarter. A $7.67 billion decrease in reverse repurchase agreements and a $10.14 billion decline in interest-bearing balances held at U.S. financial institutions were responsible for the drop.
For the full report, visit http://www.snl.com/InteractiveX/Article.aspx?cdid=A-27025657-13098