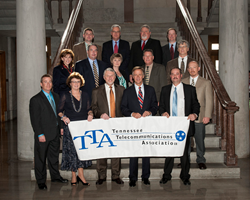 'We are particularly concerned about four bills that have been introduced this session,' says Levoy Knowles, TTA's executive director.
Nashville, TN (PRWEB) February 28, 2014
Leaders from Tennessee's independent telecommunications companies met with state government leaders last week to discuss legislation impacting rural consumers.
The Tennessee Telecommunications Association (TTA) held its annual "TTA Day on the Hill" on Wednesday, February 19. Executives from cooperative and independent broadband and phone providers gathered at the state capital to express their concerns about bills that would threaten their ability to deliver affordable broadband service to the state's rural regions.
"We are particularly concerned about four bills that have been introduced this session," says Levoy Knowles, TTA's executive director. "These bills would allow municipalities to expand beyond their current footprint and offer broadband in our service areas. If this were to happen, municipalities could cherry-pick our more populated areas, leaving the more remote, rural consumers to bear the high cost of delivering broadband to these less populated regions."
Seventeen TTA members participated in the event, meeting with Speaker of the House Beth Harwell and Lt. Gov. Ron Ramsey. Rep. Pat Marsh, Chair of the House Business and Utility Committee, also met with the group, along with committee Vice Chair Rep. Art Swann.
"We appreciate the work of the House Business and Utilities Committee," says Knowles. "During their committee meeting, members recognized the TTA and the work our
association members do in delivering broadband connectivity to the small towns and communities across Tennessee."
TTA members thanked the committee for action on a recent bill, and discussed their position on other bills now pending in the House of Representatives. Later in the day, the group enjoyed a brief visit with Gov. Bill Haslam.
Association members participating in the event included: Levoy Knowles, executive director, TTA; Teresa Knowles, TTA; Nancy White, CEO, North Central Telephone Cooperative; Marty Passarella, growth and development coordinator, Loretto Telecom; Jonathan West, CEO, Twin Lakes Telephone Cooperative; Mark Patterson, general manager, Highland Telephone Cooperative; Bruce Mottern, manager of state government affairs, TDS Telecom; William Bradford, CEO, United Communications; David Vaughn, district operations manager, Ben Lomand Connect; Craig Sullivan, operations manager, WK&T Telecommunications; John Strode, legal and regulatory manager, Ritter Communications; Georgie Bailey, operations manager, Ardmore Telephone Company; and Brian Abston, sales representative, RepCom.
The Tennessee Telecommunications Association is a network of cooperative and independent companies providing broadband, phone and related telecommunications services to the small towns and rural regions of Tennessee. The TTA focuses on legislative advocacy and education, while fostering collaboration among its members for the benefit of their consumers. More information about the TTA can be found at the association's website: http://www.tenntel.org.