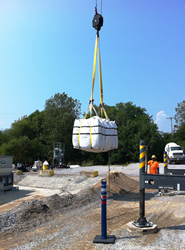 These projects demonstrate the diverse applications for our packaging products, not just for waste.
Wexford, PA (PRWEB) March 03, 2014
MHF Services (MHF), a leading provider of packaging, transportation, logistics and technical services, recently provided our innovative flexible packaging to help prevent the erosion of sediment at the Olmsted Dam on the Ohio River in Olmsted, Illinois.
Working under contract to URS Washington Group/Alverici, JV, MHF provided a modified version of our standard five cubic yard Lift Liner™ to contain wet packed sand. The Lift Liners™ weighed approximately 15,000 pounds when filled.
MHF's client used the Lift Liners™ to shore up the sediment surrounding massive support columns at the dam. The Lift Liners™ were lowered into position under 60 feet of water using a crane with a single load line and a single point pick for release. MHF provided instructions on installing, loading, and securing the bags.
Olmsted Dam is one of the largest civil works projects ever undertaken by the United States Army Corps of Engineers (USACE). URS is leading a joint venture to build the dam, which will replace two of the original locks and dams that were completed in 1929.
MHF has provided packaging on several other high-profile projects, including the Tennessee Valley Authority Fly Ash Recovery Project in Kingston, TN and the USACE 17th Street and London Avenue Levee Abatement Project in New Orleans, LA in the aftermath of Hurricane Katrina.
Scott Dempsey, MHF Vice President and Director of Sales and Marketing, said, "These projects demonstrate the diverse applications for our packaging products, not just for waste but also for projects such as dune rebuild, flood protection or temporary bridges where our packages can be placed." Dempsey also said that projects such as Olmsted Dam also underscore MHF's ability to perform under a high degree of scrutiny by the government and the general public.
About MHF Services
MHF (http://www.mhfservices.com) is an integrated packaging, transportation and logistics provider that offers seamless solutions for generators and shippers of radioactive, hazardous, and non-hazardous waste, materials, and byproducts. The company's customers include government agencies such as the U.S. Army Corps of Engineers, the U.S. Department of Defense, the U.S. Department of Energy, and others. MHF also provides transportation and logistics solutions to companies in the nuclear utilities, environmental services, mining, metals, chemical, and petrochemical industries.