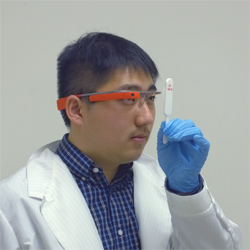 Los Angeles, CA (PRWEB) March 11, 2014
Holomic is launching a Google Glass Platform for the measurement of rapid diagnostic tests (RDTs) and lateral flow immunoassays. Developed at the research lab of Professor Aydogan Ozcan at UCLA and licensed by Holomic, the Glass Platform is the first Glass diagnostic application to read RDTs for the real-time diagnosis and tracking of various diseases and health conditions.
Rapid diagnostic tests are widely used globally as a cost effective and quick method of diagnosing health conditions. They test for a variety of conditions including HIV, malaria, diabetes, thyroid, cardiac and other chronic and acute indications. Their accuracy and reliability can be significantly improved with digital readers, however, these tend to be expensive and bulky. Holomic introduced a cost-effective smartphone-based reader (HRDR-200) in 2013, and is currently delivering this quantitative reader for the accurate reading of rapid tests and connectivity with Electronic Health Records. With the Google Glass Platform, Holomic continues to lead in innovating technologies for point-of-care diagnostics.
The Google Glass Platform includes a custom-developed Glass Application software downloadable from the Google Glass server to your Glass. It is intended for use with RDT cassettes marked with QR code identifiers in well lit ambiances and no other hardware is required. It works like this: the Glass user looks at the RDT and with a voice command leads the Glass to acquire the RDT image with its camera and to transmit it to the Holomic Cloud-Server for rapid post-image processing. The server can be accessed from anywhere using a web browser to see a dynamic spatio-temporal map and real-time statistics of uploaded test results. Professor Ozcan and his team have tested the system with RDTs for HIV and PSA and have obtained outstanding results.
Google's Glass is still in beta and available only to a limited number of users. Likewise, Holomic's Glass Platform (Glass Application and Holomic Cloud-Server) will initially be available only to a limited number of researchers at universities and rapid test development organizations. Holomic's objective is to collaborate with Google, the Ozcan Research Lab at UCLA, and the user community to further advance this promising platform for improved healthcare.
For more information about availability contact Ketaki Sood, Director of Product Marketing, ketaki(at)holomic(dot)com, 310.443.2070. This innovative work has been published in ACS Nano, a prestigious scientific journal by the American Chemical Society and the article can be found here: http://pubs.acs.org/doi/abs/10.1021/nn500614k.
Disclaimer: In the US, the HRDR-200 Holomic Rapid Diagnostic Reader and the Glass Platform are available for Research Use Only. Not for use in diagnostic procedures.
About Holomic
Holomic LLC http://www.holomic.com is a young technology company dedicated to improving patient healthcare with the use of smartphones and biophotonics. We are a licensee of UCLA and collaborate closely with Professor Aydogan Ozcan and his group at the university. Our first product is a suite of rapid diagnostic test readers for advancing diagnostic accuracy and access. Other products in development include a lens free holographic microscope, and handheld analyzers for blood count, allergens, and mercury contamination. Holomic is registered with the FDA as a Medical Device Manufacturer and is certified as an ISO 13485 supplier. The company was a finalist for the Katerva Award, Nokia Sensing X-Challenge Award, SPIE PRISM Award, and has won numerous government and corporate contracts.
For more information on the Ozcan Research Group at UCLA visit http://innovate.ee.ucla.edu/.
Contact:
Ketaki Sood, Director of Product Marketing, Holomic LLC
ketaki(at)holomic(dot)com, 310.443.2070