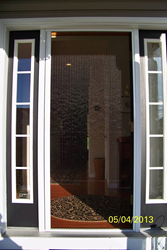 Bennett explains that it's a crucial part of his business plan to constantly strive for a better product and service experience for his customers.
(PRWEB) February 28, 2014
Expanding on their popular, "How to Plissé," video series, Screen Solutions, retractable screen manufacturer and leading online retailer, is debuting yet another new video. This time demonstrating how to install their optional threshold adapter on the Plisse style retractable screen door.
"Doug the Screen Guy," the voice behind the popular DIY retractable screen blog, Plissé by Screen Solutions, demonstrates in the how-to video series exactly how to install, adjust and use their Plissé retractable screens on all types of doors and windows.
Bennett says customers can expect more videos to be released over the coming months. He explains that most customers are much more confident about the ease of installation after having seen a quick video demonstration as opposed to detailed, printed installation instructions.
"We'll be releasing videos to supplement all of our installation instructions as quickly as possible," says Bennett who explains that it's a crucial part of his business plan to constantly strive for a better product and service experience for his customers.
"We are proud to be the only retractable screen retailer to offer a quality product at an affordable price that the average homeowner can easily install themselves," says Douglas J. Bennett, better known online and to his customers as "Doug, the Screen Guy."
Bennett is also proud that the Plissé retractable screen is actually custom built in Screen Solutions' Austin, Texas facility, assembled, set up and quality tested before being shipped via FedEx ground, free, to the customer's home. No other retractable screen company currently offers this level of service and workmanship.
Bennett has already filmed and begun production on the remaining videos in the series, including how to measure for and install retractable screens on different openings such as windows, sliding glass doors and more.
Bennett's Screen Solutions Inc was the first to offer affordable quality in retractable door and window screens to the North American market with their Plissé retractable screen debut in 2006.
Today, the patent-pending Plissé II retractable screen is new and improved and in full stock at Bennett's central Texas facility, ready to be custom built for each and every customer.
The Plissé Difference
Not all retractable door screens are created equal. The Plissé retractable screen by Screen Solutions demonstrates this with innovations that include die cast aluminum corners, Teflon-infused plastic and a bottom rail dust cover.
Especially innovative to the invisible screen market is the DIY replaceable fabric assembly, now standard with the Plissé II. This feature means no expensive service call or complete replacement is necessary if your neighbor tries to walk through your new retractable screen door.
There simply aren't any other retractable screen available to the average homeowner that offers the over-abundance of features that the Plissé retractable screen does: die cast aluminum corners, minimal use of plastics and stainless steel small parts for long life in extreme weather conditions, six standard colors to closely match most exterior trim colors, dual adjustable die cast aluminum handles, Teflon-infused plastic for smooth operation, bottom rail dust cover and DIY replaceable fabric assembly.
All of this is available for less than $200, including free FedEx ground shipping to the lower 48 states, and backed by the Screen Solutions Inc limited lifetime warranty.
To learn more or purchase your own Plisse retractable screen today, visit Doug the Screen Guy online at http://www.plissescreen.com.