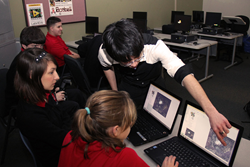 Learning how to program an actual real life robot was a fun experience, can't wait to use our own robot at our school.
Oklahoma City, Oklahoma (PRWEB) February 28, 2014
Earlier this month, the GREAT Academy traveled from New Mexico to Oklahoma, with 20 students and 8 faculty members, to learn more about Game Design, Electronics, and Robotics at techJoYnT Academy. These subjects are all part of the GEAR program (Game Design, Electronics, App Development, and Robotics) and have been designed to foster STEM Education in new and engaging ways. As part of the GREAT Academy's new STEM lab, they will be getting three RobotsLAB BOXes, several myDAQ kits and a Aldebaran NAO robot.
"The GREAT Academy students seemed to really enjoy learning how to program robots and create video games. We spent the first half of the day creating a 2D video game and after lunch we programmed a humanoid robot, but this is just scratching the surface of what they will learn. I expect that they will be very excited to expand their knowledge in these fields in the following school year," said Ray Shaik, CEO of techJoYnT.
"Learning how to program an actual real life robot was a fun experience, can't wait to use our own robot at our school!" said Sara C., GREAT Academy Student.
From learning about probability equations using video games to visually represent how quadratic equations are used with quadcopters, the GEAR program is sure to engage students in STEM fields. Within the a RobotsLAB BOX, students will learn lessons in Algebra I, Geometry, Calculus, and Physics using a wide array of robots. Within the Aldebaran NAO, students will learn about pressure sensors, sonar sensors, gyroscopic balance systems, and much more. Within the myDAQ kits, students will learn about Newton's First Law, circuit board prototyping, earthquake resistant structural design, vertical takeoff and landing flight control, and a whole lot more.
Bryan Sekine, the Game Design Instructor at techJoYnT Academy, says, "The concepts initially seem very complex and often intimidating to students, but using the right tools and teaching methods make the lessons easy to digest, fun, and incredibly engaging."
The new equipment and curriculum is expected to be implemented into the GREAT Academy's programs by Fall of 2014.
About techJoYnT Academy
techJoYnT delivers curriculum to reinforce traditional science, technology, engineering, and mathematics education. The organization offers families, students, and mentors the opportunity to learn engineering and entrepreneurship concepts through hands-on robotics and game design projects. Programs are offered at local libraries, community centers, public and private schools and at techJoYnT Academy's location.
About the GREAT Academy
The GREAT Academy is a public charter high school, located in Albuquerque, New Mexico serving students in grades 9-12 whose mission is to ensure that its students Gain Real-world Experience through Active Transition. This school embraces a unique, one-of-a-kind business-school model. The school has a business and college-prep focus. Its unique hybrid curricular model includes four hi-tech career exploration labs covering the areas of: Audio/Video Production, Science & Engineering, Marketing & Entrepreneurship and Health & Education. The GREAT Academy promises to make sure that its graduates are prepared for the demands of post-secondary education and/or the career world, and in turn, improve the community by improving its residents. The GREAT Academy is committed to providing students with an education that is relevant and meaningful to their journey of achieving success. The Academy received a school letter grade of a 'B' for the 2012 school year.