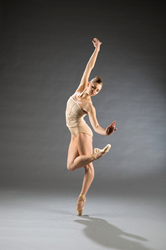 'Our 51st Season features some of the most ambitious work the Company has ever presented,' Artistic Director Roy Kaiser says. 'These performances are sure to move you.'
Philadelphia, PA (PRWEB) March 03, 2014
Pennsylvania Ballet Artistic Director Roy Kaiser announces the company's powerful 2014-15 Season – highlighting some of the most celebrated choreographers and composers of all time.
The 51st Season will feature the Company premieres of Beethoven: Symphony No. 9 from former Artistic Director Robert Weiss, In G Major by Jerome Robbins, The Second Detail by William Forsythe, and O zlozony / O composite by dance pioneer Trisha Brown, the first work of hers to enter the repertoire. Also, the Company has commissioned World Premieres from Nicolo Fonte and Choreographer in Residence Matthew Neenan, and audience favorites like Christopher Wheeldon's Swan Lake will make a triumphant return.
"Our 51st Season features some of the most ambitious work the Company has ever presented," Artistic Director Roy Kaiser says. "These performances are sure to move you."
Before the 2014-15 Season begins in Philadelphia, Pennsylvania Ballet debuts at the Vail International Dance Festival in Colorado. The Company will perform George Balanchine's Rubies from Jewels on Opening Night of the festival, July 27, as well as an all-Balanchine evening on July 28 (Serenade, Tarantella, and Stravinsky Violin Concerto), and a unique benefit "UpClose" on July 30, a rehearsal-style program hosted by Festival Director Damian Woetzel and featuring selections from Balanchine's Jewels. For tickets, on sale March 25, please visit http://www.vvf.org/arts/vail-international-dance-festival.
Pennsylvania Ballet's 2014-15 Season
Beethoven: Symphony No. 9
October 16-26, 2014
Academy of Music
Beethoven: Symphony No. 9 by Robert Weiss, music by Ludwig van Beethoven
[Company Premiere]
Jeu de Cartes by Alexei Ratmansky, music by Igor Stravinsky
Epic music propels the opening program of Pennsylvania Ballet's 51st Season. Former Artistic Director Robert Weiss crafts a powerfully pure ballet with Beethoven: Symphony No. 9, a Company premiere. The famous score, featuring a live chorus, culminates with the inspirational "Ode to Joy." Presented for the first time outside Russia by Pennsylvania Ballet, Jeu de Cartes creates a bold, abstract expression of Stravinsky's score of the same name. The French title translates to "The Card Game," which for Alexei Ratmansky – one of the world's most sought-after choreographers – simply addresses the "gamble" of choreographing to Stravinsky's musical complexities.
George Balanchine's The Nutcracker™
Supported by First Niagara
December 6-31, 2014
Academy of Music
Choreography: George Balanchine
Music: Peter Ilyitch Tschaikovsky
Escape to the Land of Sweets for the Philadelphia region's most beloved holiday tradition, George Balanchine's The Nutcracker. For 46 years, families have created yuletide memories with Pennsylvania Ballet's production of this classic tale. The simple story of a girl, a gift, and a fanciful dream is made magical by opulent sets and costumes, the charm of The School of Pennsylvania Ballet students, and the impassioned artistry of Pennsylvania Ballet dancers. The celebrated Philadelphia Boys Choir raises their voices with the magnificent Pennsylvania Ballet Orchestra to bring Tschaikovsky's unforgettable score to life.
Prodigal Son
February 5-8, 2015
Merriam Theater
Prodigal Son by George Balanchine, music by Sergei Prokofiev
Polyphonia by Christopher Wheeldon, music by György Ligeti
WORLD PREMIERE by Matthew Neenan
Witness a moving masterpiece in George Balanchine's Prodigal Son. Set to an original score by Sergei Prokofiev, Prodigal Son tells the well-known biblical story through touching dramatic scenes and soaring acrobatic movement. Striking and stripped-down, Christopher Wheeldon's Polyphonia experiments with traditional ballet, resulting in inventive steps and duets. With an adventurous choice in composer György Ligeti, Polyphonia helped solidify Wheeldon's place in ballet history. Heralded by The New York Times as "one of today's foremost dance poets," Choreographer in Residence Matthew Neenan conceives his 16th World Premiere for the Company to round out this eclectic program.
Swan Lake
March 5-15, 2015
Academy of Music
Choreography: Christopher Wheeldon (after Marius Petipa and Lev Ivanov)
Music: Peter Ilyitch Tschaikovsky
Behold Pennsylvania Ballet's own stunning version of the world's most renowned ballet. Premiered in 2004 to national acclaim, Christopher Wheeldon's stellar production of Swan Lake was commissioned and performed to sold-out audiences for the Company's 40th Anniversary Season, followed by sold-out performances at Edinburgh International Festival. Wheeldon's Swan Lake is based on the original Ivanov/Petipa classic and set to the timeless Tschaikovsky score but has been re-imagined for today's audiences. The million-dollar production features spectacular costumes and sets inspired by Edgar Degas. Brilliant choreography and searing moments of drama illuminate ballet's greatest love story.
A Tribute to Jerome Robbins
May 7-10, 2015
Academy of Music
In G Major by Jerome Robbins, music by Maurice Ravel [Company Premiere]
The Concert by Jerome Robbins, music by Frederic Chopin
Fancy Free by Jerome Robbins, music by Leonard Bernstein
Celebrate the versatility and genius of choreographer Jerome Robbins. World famous for his work on Broadway blockbusters like The King and I and West Side Story, Robbins created superb ballets with the same panache and flair. Two hilarious works anchor this program: Fancy Free, which follows the escapades of three World War II sailors on leave in New York City, and The Concert, observing the outlandish antics and straying thoughts of an audience gathered for a piano recital. Whimsical and serene, the Company premiere of In G Major features aquatic-inspired sets and costumes and an exquisite central pas de deux, set to Ravel's monumental Piano Concerto in G Major.
Brown, Fonte, & Forsythe
June 11-14, 2015
Merriam Theater
O zlozony / O composite by Trisha Brown, music by Laurie Anderson [Company Premiere]
WORLD PREMIERE by Nicolo Fonte
The Second Detail by William Forsythe, music by Thom Willems [Company Premiere]
Break new ground with a contemporary program of work never before seen on the Pennsylvania Ballet stage. The Company premiere of Trisha Brown's O zlozony / O composite marks the first piece to enter the repertoire by this dance pioneer. Originally created for three Paris Opera Ballet dancers, the work – which gets its title from a Polish poem – fuses classical and modern dance plus spoken word for a truly unique performance experience. Also a Company premiere, The Second Detail is quintessential William Forsythe: full of attitude, a pulsating electronic score, and vigorous, unexpected movement. Choreographer Nicolo Fonte creates a World Premiere to complete this electrifying program.
2014-15 Season ticket packages are on sale now at 215.893.1955 and at paballet.org. Save up to 25% on single ticket prices with a full series. Season ticketholders enjoy great benefits: 15% off additional single tickets, free exchanges, exclusive events, and discounts on dining and parking.
Groups of 10 or more get discounts and great seats! Ask about backstage tours, special talks with staff and dancers, and dining options near the theater for your group. For tickets and more information, contact Group Sales Manager Arajua Backman at 215.587.6921 or abackman(at)paballet(dot)org.
Connect with us! Follow Pennsylvania Ballet on Twitter, Facebook, and YouTube to go behind-the-scenes anytime, day or night.
Pennsylvania Ballet's Season sponsors include DoubleTree by Hilton Hotel, The Sporting Club at the Bellevue, and US Airways.
Pennsylvania Ballet receives support from the Pennsylvania Council on the Arts – a state agency funded by the Commonwealth of Pennsylvania and the National Endowment for the Arts, a federal agency – and The Philadelphia Cultural Fund.
About Pennsylvania Ballet
Founded in 1963 by Balanchine student and protégée Barbara Weisberger, Pennsylvania Ballet is one of the nation's leading ballet companies. Headquartered in Philadelphia, the Company's annual local season features six programs of classic favorites and new works, including the Philadelphia holiday tradition, George Balanchine's The Nutcracker™. For more information, visit paballet.org or call 215.551.7000.
Online Press Images Library:
The media is invited to download high-resolution photos from the 2014-15 Season at:
http://paballet.org/14-15-press-images
Username: paballet
Password: 12tutu!@
# # #