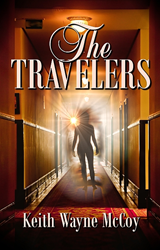 The most intense journeys are never geographical.
Illinois (PRWEB) February 28, 2014
In 1947, James and Jess Bennett, a World War II GI and his British war bride are bound for the United States aboard the QUEEN MARY when an errant radio signal serves as a beacon for a North Atlantic encounter between the couple and an otherworldly, desperate mother and her two small children. The Bennetts left Southampton with only each other but arrive in New York as a family. In the present day, a melancholy black film maker is thrust into a supernatural mystery after a haunting prelude with the now elderly mother in a corridor aboard the retired liner in Long Beach, California. He is solely enjoined to bring the Bennetts and the mother together one last time. The following is an excerpt from Chapter 1 in which Mrs. Bennett returns to the liner after decades:
Disappointment awaited in the cabin. Although original in paneling and decor, a television and modern telephone sang in disharmony with the Art Deco surroundings. The throb of the engines, once as palpable as a heartbeat, could no longer be felt or heard in the slight chatter of paneling. There was no sense of thrill or immediacy since departure was not imminent. After unpacking, she did not go to meet the production crew but instead followed a tour group that filed past a T in the corridor outside her cabin. Children in shorts popped their gum and gawked at displays, then pulled at their parents with cries of hunger and impatience.
She wandered from the group when they moved to an escalator going below decks and went slowly through First Class corridors that were largely unchanged from sailing days. She remembered precisely and found the Lounge which was closed. The large, formal door was locked, but she saw a smaller one farther down that was evidently a service entrance. It was unlocked and she stepped into the hushed gloom of a room that possessed far, unseen reaches. Muffled light hovered from large, circular windows near the ceiling and the massive, veneered columns that rose in silent majesty before her suggested an Egyptian palace. She had the vivid feeling that the room reared from slumber to wakefulness with her entrance, aware of her presence after so many years, perhaps surprised, and ready to meditate over the past with her. Not wishing to break the spell, she walked slowly and soundlessly to a chair in a recessed part of the room and sat in the shadows.
"The Travelers" is available as an ebook through Champagne Book Group, a publishing house which emphasizes the strength of electronic publishing and predicts the continuing success of books delivered to devices such as the Kindle and Nook.
http://www.keithwaynemccoy.com