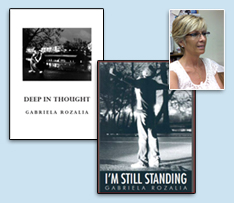 I'm just a regular person from Woodbridge, New Jersey. If I can get through these things, you can.
Woodbridge, NJ (PRWEB) March 03, 2014
In "I'm Still Standing," author Gabriela Rozalia shares how she dealt with losing her 21-year-old son, her father and grandmother within a single year, while undergoing treatment for her own cancer. Coping with these significant losses took a toll on her health and her relationships with those she loved began to deteriorate. She sought psychological assistance, which helped her understand and overcome her anxiety and anger.
Rozalia writes as if speaking to a friend and walks the reader through her journey down the path of recovery from her painful losses as well as her own cancer, learning the true value of her life and her family. She hopes that by reading her book, others going through hardship will get positive results by choosing happiness.
For readers, "I'm Still Standing" just wasn't enough; they wanted more. This reaction encouraged Rozalia to self-publish her second book, "Deep in Thought," which shows that Rozalia has emerged on the other side of despair with understanding and acceptance of things that cannot be changed. "The new book actually looks back at the old one. Things are no longer as tragic, but it's about learning to roll with the punches," said Rozalia.
Rozalia declared, "I'm just a regular person from Woodbridge, New Jersey. If I can get through these things, you can." In Rozalia's opinion, "it is perfectly normal to cry it out," and her best advice is, "Leave yourself a little grieving time daily, but do not dwell for too long."
Both of Rozalia's books can be purchased at gabrielarozalia.wordpress.com. Rozalia is available for book signings and motivational speaking engagements.
Rozalia is a secretary for a community college. She and her family continue to encourage others, explaining through their own experiences that when one is down, the only way to go is up.