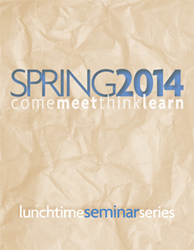 The seminars are often the first times when works-in-progress, early findings, and new concepts are being discussed with the public.
Wellesley, MA (PRWEB) February 28, 2014
The Wellesley Centers for Women (WCW) will kick off its Spring Lunchtime Seminar Series, featuring social science scholars sharing new research findings and leading interactive discussions, on March 20th, with programs held most Thursdays through May 1st, from 12:30-1:30 p.m., at the Centers' Cheever House location. (The April 10th program will be held in the Wellesley College Campus Center.) Many of the programs will be recorded and the audio and MP3 files will be posted online within 24 hours.
"The Lunchtime Seminar Series give visitors to our center and website the opportunity to hear, first-hand, from scholars who are leading a wide variety of research, theory-development, and action programs that put the concerns of women and girls, families and communities, at the center for their focus," notes Donna Tambascio, WCW Deputy Director for Communications and External Relations. "The seminars are often the first times when works-in-progress, early findings, and new concepts are being discussed with the public."
The Spring 2014 line-up features:
March 20--Disloyal Daughters: A Girls' Studies Look at Three Progressive Era Social Reformers with Tamara Beauboeuf-Lafont, Ed.D.;
March 27--Moving Beyond Prisons: An Action Platform to Address Women's Needs in Massachusetts with Erika Kates, Ph.D.;
April 3--Relational Neuroscience in Action: Reconnecting Dopamine to Healthy Human Relationships with Amy Banks, M.D.;
April 10--Men's Changing Family Roles with Wendy Wagner Robeson, Ed.D., Nancy L. Marshall, Ed.D., and Amanda Richer, M.A.;
April 24--Preventing Depression in At-Risk Adolescents: The CATCH-IT Intervention Program with Tracy Gladstone, Ph.D.; and
May 1--It's Not about Checking a Box: Confronting the Claims of Post-racialism with Maureen Walker, Ph.D.
The schedule is subject to change; please confirm programming by visiting the Centers' online calendar or by calling 781.283.2500. Listen to past programs online (or download MP3 files).
The Wellesley Centers for Women at Wellesley College is one of the largest gender-focused research-and-action organizations in the world. Scholars at the Centers conduct social science research and evaluation, develop theory and publications, and implement training programs on issues that put women's lives and women's concerns at the center of the inquiry. Since 1974, work at WCW has generated changes in attitudes, practices, and public policy. Work at the Centers addresses three major areas: the social and economic status of women and girls and the advancement of their human rights both in the United States and around the globe; the education, care, and development of children and youth; and the emotional wellbeing of families and individuals.