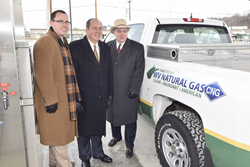 With the cost of CNG at $2.19 a gallon, both the taxpayers and the environment are big winners.
Charleston, VA (PRWEB) February 28, 2014
West Virginia drivers now have more options when it comes to which fuel to use in their vehicles.
On Jan. 28, IGS Energy/CNG Services celebrated the grand opening of its Charleston compressed natural gas (CNG) fueling station, located on Spring Street next to the Bigley Avenue Foodland store. The station will service the growing number of West Virginia businesses and residents who are converting to natural gas vehicles (NGVs) as a way to save money and use a clean West Virginia fuel.
The Spring Street CNG fueling station is the third one constructed by IGS in the state, following the opening of the Bridgeport station in September. The third location is open for business in Jane Lew.
As the vast Marcellus Shale gas deposit is tapped, the state has access to an abundance of natural gas, which is safer, cleaner and generally cheaper than conventional gasoline. CNG emits up to 30 percent less carbon dioxide, up to 75 percent less carbon dioxide and up to 95 percent less particulate matter than gasoline or diesel. The fuel also costs substantially less than conventional fuels. With CNG stations in Charleston, Bridgeport and Jane Lew, a person can drive all the way from Charleston to Pittsburgh on this clean, local resource that's a little more than two dollars a gallon.
Whether it's for an individual or a company fleet, CNG-powered transportation is a good business decision. West Virginia Governor Earl Ray Tomblin organized a Natural Gas Vehicle Task Force to transition the state's fleet to natural gas fuels. Gov. Tomblin said in 2013 that state government should convert at least one-fourth of its 7,800-vehicle fleet within four years. That effort has begun with the addition of 15 CNG-fueled pickups and five vans driven by WVDOT Division of Highways personnel.
"As one of the nation's top energy-producing states, West Virginia powers much of our state and the nation," Gov. Tomblin said. "As we continue to diversify our state's energy industry, it is important that we utilize this affordable and reliable alternative fuel source harvested by hardworking West Virginians. Charleston's new CNG fueling center opens a door to so many opportunities in the Mountain State."
West Virginia has seen an 80 percent increase in natural gas production since 2010. The state is the second-largest natural gas exporter in the region. In addition to its status as a domestically produced fuel, it is also abundant, with more than 100 years of natural gas supply in the United States alone.
State fleet manager Kenneth Yoakum says along with the Division of Highways trucks and vans, they also plan to add sedans in the future.
"With the cost of CNG at $2.19 a gallon, both the taxpayers and the environment are big winners," he said.
Officials with West Virginia's Clean State Program have helped with training those who use CNG vehicles, as well as serving as a liaison between state entities and private businesses.
"The program has helped bring the stakeholders to the table and has been a neutral third party," said TJ Meadows of IGS. "We have to have both the vehicles and the infrastructure to support them simultaneously, and the Clean State Program has provided the training and valuable information that everyone can benefit from."
In addition to the state vehicles, partner companies including Chesapeake Energy, Antero Resources and EQT Corporation have already committed to fueling vehicles along the I-79 Corridor. And IGS is looking at building additional fueling stations around the state.
"We're looking at where it makes the most strategic sense," Meadows said. "These stations are playing a role in creating job opportunities in the gas industry that otherwise wouldn't exist."
Drivers don't need to buy a brand new vehicle to take advantage of cheaper fuel. West Virginia CNG, Inc. takes vehicles that now run on gasoline and converts them to run on compressed natural gas.
"When we are finished with the vehicle you can push a button and run your vehicle on gasoline or push the button to run on natural gas," said owner C.J. Smith. "CNG burns a little hotter and cleaner, therefore your engine doesn't have the sludge buildup you have in a gasoline engine and the lifespan of your engine should last longer."
Whether they own a CNG vehicle or not, West Virginia taxpayers are all benefiting.
"When the state saves money by using CNG instead of diesel or gas, that means more money to divert to schools or other programs that need funding," Meadows said. "With tighter budgets, using CNG is a good strategy as to how we spend our tax dollars."
Contact:
Kelly Bragg, WV Clean State Program
kelly(dot)a(dot)bragg(at)wv(dot)gov
304-957-2004
Courtney Sisk, Dept. of Commerce
courtney(dot)s(dot)sisk(at)wv(dot)gov
304-957-9341