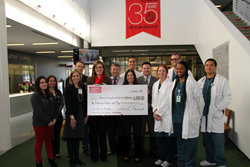 This is going to make a huge impact.
Ontario, California (PRWEB) February 28, 2014
Representatives from the American Lung Association in California are visiting American Career College in Ontario to receive a check for $6,000. The money was raised online through a special social media fundraiser on Facebook and Twitter. ACC posted that for every "like" and "share" it would donate $1.00 to the nonprofit organization.
"Thank you so much," said ALA of California's Terry Roberts, who was one of the visitors on campus for the check presentation. "People don't realize that every dollar counts. This is going to have a huge impact. With the donation from this campaign we will be able to serve even more kids in our Southern California Asthma Management Program."
Known as SCAMP, this program is for children with moderate to severe asthma and every summer there is a special camp for these children where they are supervised by medical professionals who volunteer. ALA of California serves over 200 children from the community with the SCAMP camp every year, allowing them to enjoy a summer camp experience in spite of being asthmatic.
ACC has also partnered with ALA of California to support fundraising events like the Fight For Air Walk in Ontario in November of last year. Students and faculty from the respiratory therapy program formed a team and participated in the Walk, while students from the massage therapy program volunteered to help walkers loosen up with on-location massages.
"For me to be involved in the asthma walk and presentation to American Lung Association today, I get that sense that I am part of something really big and really great," said Ryan Tacazon, respiratory therapy student at ACC Ontario.
"Being involved with this makes me feel really good," said fellow RT student Ashley Hazelwood. "I love kids and anything I can do to help out kids with respiratory problems is a great thing."
ACC students and faculty serve the community in a variety of ways, putting in hundreds of volunteer hours every year. Service learning is a critical part of the ACC mission, says Susan Pailet, Vice President for Student Success.
"This is more than just getting an education and this is more than just getting a technical skill," Pailet said. "This is about being a part of a community; something we hope will resonate with our students and enrich their experience. ACC will continue to partner with ALA of California in future fundraising endeavors and we look forward to that."
About American Career College
Founded over 35 years ago, American Career College has grown to meet the demand for highly skilled health care employees across a broad spectrum of disciplines. ACC offers health care training programs at 5 locations in Southern California. ACC also offers a no-cost GED Preparation Program designed to help members of the communities served by the school achieve their goals in life. For more information about American Career College, please visit americancareercollege.edu.