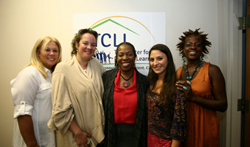 These kids need a place to go where there is no judgment.
Teaneck, NJ (PRWEB) February 28, 2014
CabinetHardware.org has announced the launch of the Center for Life and Learning Initiative. This initiative supports the work of Renee Redding-Jones in building a center that can families with special needs children. Redding-Jones began the project when she learned first hand, as a mother of a special needs child, just how demanding such a role can be.
"These kids need a place to be where there is no judgment," Redding-Jones said, and then added, that as stressful as such a situation can be for the children, that their families also need support. The Center offers cutting edge, holistic therapy for the children and their families.
While starting off with a rental of two therapy rooms, Redding-Jones states that "My vision for The Center is a large facility with several therapy rooms, a movement studio, meditation room, conference rooms and offices that will allow us to fully serve the children and their families."
To make this vision become a reality, Redding-Jones approached CabinetHardware.org founder David Mason to ask if The Center for Life and Learning could be included in his company-sponsored FlowOver Project that offers qualified organizations and individuals an opportunity to earn grant money for their cause. CabinetHardware.org customers can voluntarily designate 10 percent of the cost of their purchases toward any one of the relief projects featured on the company's website with no additional cost to them.
Mason was impressed by Redding-Jones' holistic approach and welcomed her into the program.
"We often speak about special needs children, but I wholeheartedly agree with Renee that we need to expand our view and start thinking about special needs families. Truly the two are inseparable." Mason said.
Redding-Jones is aiming to raise $50,000 for her center, and has entered a $10,000 grant proposal from CabinetHardware.org.
To learn more about the Center for Life and Learning project and vote to add it to the Cabinet Hardware Relief Efforts website, visit the Relief Efforts page of the CabinetHardware.org website. (http://www.cabinethardware.org/relief-efforts/the-center-for-life-and-learning.)
About CabinetHardware.org:
http://www.CabinetHardware.org is a combination e-commerce site and crowdfunding platform founded in 2013 by entrepreneur David Mason. Ten percent of every dollar spent on the site is donated to relief efforts to help needy families rebuild their homes after a disaster, and others in crisis. Anyone with a qualifying project representative of a charitable cause can apply for one of the company's relief grants through its charitable arm, the FlowOver project, a Certified B Corp. CabinetHardware.org visitors and customers vote for those grant applications they would like to see funded. No donation is necessary to vote or to purchase products. Customers who do earmark a portion of their purchase price to a cause absorb no cost for the their donation. CabinetHardware.org transfers 10 percent of each sale to deserving causes.