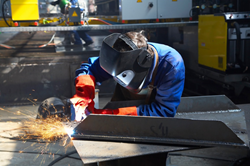 Burbank, CA (PRWEB) March 05, 2014
A policy of proven, tailored, appropriate general liability coverages is now available for welders. This includes those who weld handrails, gates, railings, fences, etc. The valuable coverages that are in the policy help protect the welder against financial loss in the event that a claim is made against the business.
For example, if a customer gets hurt while in the welder's shop, medical bills resulting from any bodily injury will be taken care of. If a welding job is later proved to be faulty, and a claim is made, the policy will cover that also. If a legal defense needs to be prepared because of a covered claim, any expenses will be paid for including any judgments, attorney fees and court costs.
The liability coverage also protects the welder if he operates his business out of rented or leased premises. If any damage is inadvertently done to the facility, it will be paid for by the policy.
"We are very pleased that we are able to provide these skilled tradesmen with this comprehensive liability coverage," said a spokesperson at the Burbank, California based USA Business Insurance. "It helps restore peace of mind to those business owners and allows them to concentrate on the business at hand instead of over-worrying about making a mistake.
About USA Business Insurance
USA Business Insurance offers flexible payment plans, discounts and great rates for small to medium size businesses of all types. Like the welders general liability policy, liability coverages are tailored to the insured's profession.
For more information visit http://businessinsuranceusa.com/welder-liability-insurance.