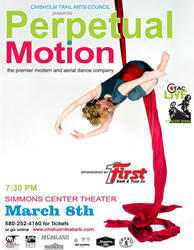 Duncan, OK (PRWEB) March 04, 2014
Duncan, the Heart of the Chisholm Trail, is excited that their Chisholm Trail Arts Council is bringing an amazing experience to Southwest Oklahoma on Saturday, March 8, 2014, at 7 pm to The Simmons Center's Jack A Maurer Convention Center Theatre.
Be prepared to be awed at the aerial dance moves that will take place on the stage. This troupe, Perpetual Motion, is the first dance company in Oklahoma to incorporate aerial dance, setting them apart as a groundbreaking company. Founded in 2002, Perpetual Motion Dance has grown to become the premier modern and aerial dance company in Oklahoma. The company's repertory is evocative, visceral and innovative, aspiring to harness the energies of the human imagination.
Thank you to First Bank & Trust, The McCasland Foundation andthe Oklahoma Arts Coucil for sponsoring the performance of Perpetual Motion Dance and making it possible for the Arts Council to bring this unique performance to Stephens County. A masters class for youth dancers will also be held. Contact the Chisholm Trail Arts Council at 580-252-4160 to reserve space for the aspiring dancer you know.
Check out this quick video snippet and be certain to purchase your tickets to this amazing performance online at http://www.chisholmtrailarts.com or by calling the Duncan Convention and Visitors Bureau at The Simmons Center at 580-252-2900 xt 240 or 800-782-7167. Tickets are $20/adult and $10/student.