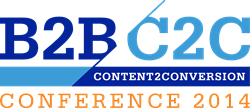 Hasbrouck Heights, NJ (PRWEB) March 03, 2014
Demand Gen Report (DGR) has announced that Brent Adamson, co-author of the best selling book, The Challenger Sale, will deliver the keynote address at its third annual B2B Content2Conversion Conference, being held May-6-7 in New York.
Registration is now open for the Conference, which will take place at The Pershing Square Signature Center. It is the only event of its kind to address the field of content marketing exclusively for the B2B industry. Mr. Adamson's keynote address will take place Tuesday, May 7th.
The Challenger Sale has appeared on The Wall Street Journal's Top 10 Business Books more than a dozen times, has sold 185,000 copies on the Amazon business books rankings and has been in the top 10 "Sales and Selling" books list for more than 28 months. The Challenger approach has been applied by companies in the Fortune 500 to fast growing start-ups.
In his keynote, Adamson will address how the Challenger Selling approach has been successfully adopted by hundreds of companies around the globe. He will also introduce the new Challenger Marketing framework now being applied by organizations to complement the new sales approach.
"B2B marketing today is no longer just about teaching your customers something new. Instead, to cut through all the noise marketers must unteach their customers something they already know or believe about the way their business currently operates," says Brent Adamson, Managing Director, CEB. "It's this sort of mental disruption that's needed to reset the customer's choice of purchase criteria decisively in your favor. And, that's what the Challenger Marketing approach is based on, turning the traditional marketing approach on its head in order to really differentiate your brand from competitors."
"A large population of the B2B organizations we talk with are finding ways to apply the Challenger Sale, and many are now interested in working this new approach into their marketing," says Andrew Gaffney, Content Director of Demand Gen Report and President, G3 Communications. "Brent's involvement in the B2B Content2Conversion Conference is a true testament to the growth and relevance of this event and his keynote will be a great kickoff to the new tracks we have added this year around Sales Enablement and Demand Generation."
Hosted by Demand Gen Report, the B2B Content2Conversion Conference is an educational event focused on strategies for mapping, developing and utilizing content marketing to nurture the buyer relationship and enhance conversions.
The event will be held May 6-7, 2014 in Manhattan at The Pershing Square Signature Center. Click here for more information or to register.
About Demand Gen Report
Demand Gen Report (DGR), a division of G3 Communications, is a targeted e-media publication spotlighting the strategies and solutions that help Business-2-Business (B2B) companies better align sales, marketing and disparate teams to support growth and drive revenue. DGR content and news coverage focuses on the sales and marketing automation tools that enable companies to better measure and manage multichannel demand generation efforts. Demand Gen Report is the only information source directly focused on this rapidly emerging business discipline.