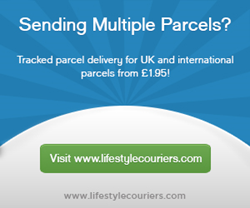 Delivery labels in China
Wigan, Great Britain (PRWEB UK) 28 February 2014
Many of Lifestyle Couriers new customers are Chinese companies that are selling on eBay. Many of these companies are struggling with their reputation because they use China post which has no tracking and typically delivery times are unpredictable. These companies are using Lifestyle Couriers recently launched a automated printing platform to create their delivery labels in China.
John Robinson the Founder of Lifestyle Couriers stated, "The adoption in China of the Lifestyle Couriers platform shows how quickly companies in China are adapting. Our new service provides companies is China with a 7 day tracked delivery. Collection is from Shenzhen with delivery directly to a UK consumer and prices start from just £2.99 per parcel."
Lifestyle Couriers proactively sends emails to parcel recipients, which means they don't have to call customer services or even go online to track a parcels. Every time a parcel delivery status changes, a parcel recipient is automatically sent an email updating them. Because customers don't need to call to ask where their order is, it significantly reduces customer service calls.
Lifestyle Couriers offers significant savings for individuals or companies sending 5-1000 parcels. No contract, clear pricing and a simple interface makes the low cost parcel delivery service available to everyone.
The Lifestyle Couriers platform allows users to mix UK and international destinations; address look-up ensures addresses are correctly captured. A file import wizard makes uploading files very easy, so no need to re-enter customer sales information. Printing can be done on a standard A4 paper printer or using a thermal printer. Lifestyle Couriers also offer customers registering this month free A4 labels to allow printing of labels on your A4 printer.
For more information, visit http://www.lifestylecouriers.com.