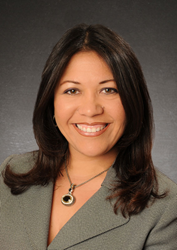 Miami, FL (PRWEB) March 28, 2014
The MIAMI Association of Realtors (MIAMI) is pleased to announce Michelle Rojas, CRS, PMN, GRI, e-Pro®, SFR, TRC, CDPE, RSPS, has been elected the first chairman of MIAMI's landmark YPN Council. The entire YPN board was recently installed at MIAMI's Annual Inaugural and Awards Luncheon. MIAMI's YPN Council is a dynamic group of young professionals dedicated to supporting the growth and professionalism of MIAMI's young real estate professionals. MIAMI represents over 31,000 residential, commercial, and international real estate professionals.
Michelle Rojas is also a member of the Florida Realtors Board of Directors, National Association of Hispanic Real Estate Professionals Leadership Council, and has served as Chair and Committee member on various Women Council of Realtors (WCR), Certified Residential Specialist (CRS) and Council of Real Estate Brokerage Managers (CRB) committees. She is a 2011 graduate of the Florida Leadership Academy and is currently in the CRS National Leadership Academy. She was recognized as YPN of the Year for MIAMI in 2012. Since becoming a REALTOR in 1994, she has attended many Florida Realtors and National Association of Realtors conventions, District Four Conferences, local conferences and events and the Miami International Real Estate Congress.
Committed to excellence, Michelle encourages education and involvement in professional organizations. Her objective is to work diligently with the association to provide the utmost education and service to the members. Working to build leadership and the integrity of our industry are her priorities.
Christina Pappas, The Keyes Company, Inc., will serve as Vice Chairman of the YPN Leadership Council. In addition, the inaugural board will include Erika Enid Abbott, Universal Land Title; Sarah Elles Boggs, Douglas Elliman; Alberto Carrillo, The Keyes Company; Jorge Fernandez, CLHMS, One Sotheby's International Realty; Jorge H. Fernandez, FM Realty Corp.; Julianna Giordano, PA, GRI, CIPS, e-PRO®, TRC, International Palms Realty, Inc.; Jorge Guerra, Jr., Real Estate Sales Force, Inc.; Carlos Gutierrez, P.A., Gutierrez Group Miami Real Estate, Keller Williams Miami Beach; Ines Hegedus-Garcia, Majestic Properties; Sep Niakan, CRS, GRI, CDPE, TRC, HB Roswell Realty; Miguel A. Salvat, Keller Williams Realty; Irina Kim Sang, MBA, TRC; Coldwell Banker Residential Real Estate; Derek Varona, Sea Grove Realty; and Albert Yabor, Spa Realty, Inc.
Cassandra Gallego, TRC, serves as the Business Development & YPN Specialist for the association.
Miami YPN uses social media to communicate with the real estate community. You can follow YPN at Facebook.com/groups/YPN Global or @GlobalYPN on Twitter.
About the MIAMI Association of REALTORS
The MIAMI Association of REALTORS was chartered by the National Association of Realtors in 1920 and is celebrating 94 years of service to Realtors, the buying and selling public, and the communities in South Florida. Comprised of five organizations, the Residential Association, the Realtors Commercial Alliance, the Broward County Board of Governors, the YPN Council and the award-winning International Council, it represents more than 31,000 real estate professionals in all aspects of real estate sales, marketing, and brokerage. It is the largest local Realtor association in the U.S., and has official partnerships with more than 115 international organizations worldwide. MIAMI's official website is http://www.miamire.com.
###