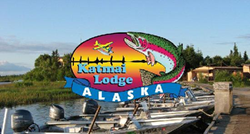 Over the past 30 year, I've fished a lot of different places, but find myself always wanting to go back to Katmai for a number of reasons. Service is incredible and the fishing... oh the fishing!! Fantastic memories!
Orange County, CA (PRWEB) March 04, 2014
Under new ownership, Katmai Lodge is excited to announce its participation in the Fred Hall Show, the Ultimate Outdoor Experience, at the Long Beach Convention Center and Arena in Long Beach, CA this March 5th - March 9th. Katmai Lodge will be located at Booth #238 directly across from Turner's Outdoorsman.
This year, Katmai Lodge will be presenting the Grand Prize Award; a free trip to Katmai Lodge in Alaska for two people. This trip includes a 4 night stay at the all inclusive Alaska lodge. Please come to the show and participate in the drawing or visit our booth for more information about Katmai Lodge.
We are just 4 months away from the 2014 season and Katmai Lodge is already booking up fast. Please get your reservation in so you don't have to wait for 2015.
Katmai Lodge offers personalized fishing adventures for groups of all sizes and experience levels. Accessed through its private airstrip with its own amphibious equipped Dehavilland Turbine Otter, the main lodge rests atop a bluff overlooking the Alagnak River, offering hundreds of miles of fishing in Alaska's only designated Trophy Fishing Area.
Already one of the great fishing ecosystems in Alaska, fishing on the Alagnak River continues to improve. The pristine river is uniquely home to all five Pacific Salmon species along with native stream fish such as Rainbow trout, Artic Grayling and Dolly Varden/Char, with four or five salmon species spawning within two miles below and 45 miles above the lodge. The region is also home to a diverse array of wildlife, which provides amazing photo opportunities.
An experienced guide staff personalizes each guest experience, making use of the lodge's forty boats to explore the full range of the Alagnak. Our river-based lodge is only ten minutes away from tidewater. Its diverse fleet of both jet and prop boats allows for both sea fresh salmon and rainbow trout fishing, while the lodge's floatplane enables easy access to Katmai National Park for viewing the renowned Brooks Falls brown bears and for fishing the area's many blue ribbon trout streams.
When off the water, anglers are encouraged to enjoy the unrivaled amenities of Katmai Lodge, which boasts more square footage per guest than any other lodge in Alaska. World-class chefs prepare hearty breakfasts and gourmet dinners in the central dining room. The main lodge includes a fully stocked fly-tying area complete with expert instruction, central gathering place, a clothing and gift shop as well as internet access. Adjacent guest cabins welcome anglers to rest and relax, offering the privacy of individual common areas.
The high season for Alaskan salmon fishing at Katmai's Lodge runs from late June through September, with trout season opening June 8th. For reservations or to inquire about group packages, anglers should visit the newly launched website at http://www.katmai.com or call 1-800-330-0326 for more information.
Visit us at
http://www.katmai.com
info@katmai.com
Make a reservation today!
800-330-0326