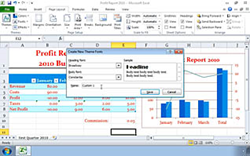 Novi, Michigan (PRWEB) March 03, 2014
Employees often under-utilize the software they work with on a daily basis; understanding the intricacies of the functionality available to them can increase productivity and efficiency. Mastery Technologies recently released new course titles, originally produced by Sonic Performance Support, covering basic components of Microsoft Excel 2010, which now completes the entire list of Excel 2010 courses offered.
New Titles include:
•Microsoft Excel 2010: Organizing Worksheet and Table Data
•Microsoft Excel 2010: Customizing and Enhancing the Excel Environment
•Microsoft Excel 2010: Importing and Exporting Data
•Microsoft Excel 2010: Integrating Excel Data with the Web
•Microsoft Excel 2010: Structuring Workbooks with XML
Additional Excel titles cover:
•Microsoft Excel 2010: Getting Started with Excel
•Microsoft Excel 2010: Calculating Data with Advanced Formulas
•Microsoft Excel 2010: Auditing Worksheets
•Microsoft Excel 2010: Analyzing Data
•Microsoft Excel 2010: Collaborating with Others
•Microsoft Excel 2010: Inserting Graphic Objects
•Microsoft Excel 2010: Printing Excel Workbooks
•Microsoft Excel 2010: Working with Multiple Workbooks
Courses provide users with the basics to better use Excel 2010. If transitioning from an older version of Excel, this training provides excellent guidance on how to navigate the updated features. Helping to eliminate barriers commonly found when using Microsoft Excel 2010, the courses follow a step-by-step learning approach.
Each course is available on Mastery's 3rd generation, Video On Demand (VOD) platform. VOD courses provide large images which appear sharp when viewed in a normal video window. Full screen display sizes are provided, delivering clear audio and sharp video, even when projected or displayed on HDTV screens. VOD titles play on all devices, including desktops, smart phones and tablets.
These courses, as well as the full list of computer skills courses, can be found at Mastery.com for $4.95 per play.
About Mastery Technologies Inc.
Mastery Technologies established the e-learning industry's first Training Content Network. Mastery partners with leading video content providers to co-produce the largest, standardized, workplace e-learning library available. Mastery goes beyond connecting customers with content, by pro-actively supporting both customers and content partners. In this way Mastery fulfills its mission of helping build more successful, effective and amazing organizations.