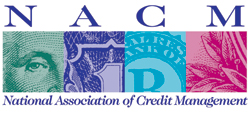 The sense is that slow growth is starting to have an impact on the survival of business and some of that is to be expected, especially in the retail sector
Columbia, MD (PRWEB) February 28, 2014
The Credit Managers' Index (CMI), published by the National Association of Credit Management (NACM), seems to having a hard time leaving 2013 behind. The February reading fell to 55.6, sending the CMI back to where it was in December, when the index fell to a recent low point.
Prior to its December drop, the CMI had been improving since July 2013, but the sense at the end of last year was that the economy was stalling in the middle of the holiday spending season. A month later the January index bounced back to levels not seen in over two years, reaching 57.3, suggesting that recovery had finally arrived and accompanied by some expectations of more consistent growth through the rest of 2014. But February's reading indicates that those expectations might've been incorrect, or at least premature, according to NACM Economist Chris Kuehl, PhD. "It appears this will be another one of 'those' years. At least it is starting out that way," he said. "The burning question is yet again, which of these months is going to turn out to be the anomaly?"
With any luck, the February CMI will be an outlier, rather than a grim thesis for the rest of 2014. The index indicated weakness in a variety of areas, rather than just some select issues attributable to one or two specific situations, suggesting what could turn out to be a more universal slowdown. The index of favorable factors stumbled from 61.5 to 59.4, as did the index of unfavorable factors, from 54.5 to 53.1, and the declines within these broader measures were pretty much across the board. Still, Kuehl noted that while the slowing was broadly represented, the chances of whether this downward trend will continue could go either way. "This may all end up being related to the bad weather this winter or it could be deeper and connected to continued weakness in the consumer and the business reaction to this consistent caution," he said.
Among the favorable factors, sales slipped from 61.5 to 59.4, marking only the second time the reading has been below 60 in the last 10 months. New credit applications barely moved but tracked in the wrong direction, from 58.2 to 58.1, and dollar collections slipped from 60.9 to 58.8, erasing the gains made in January. The most serious blow dealt in February's favorable factors might've come in amount of credit extended which, although it still remains above 60, fell from 65.4 to 61.4, the lowest reading since April.
Across-the-board declines were found in the unfavorable factors as well, as rejections of credit applications erased the gains of the last two months and fell from 54.6 to 52.3. Accounts placed for collection slipped from 55.2 to 54.6, but remains about where it has been floating for the last several readings. Disputes went from 52.2 to 51.9 and dollar amount beyond terms went from 52.8 to 51.1. Neither are huge drops, but they could be cause for some concern for what happens in the next few months. Dollar amount of customer deductions went from 51.6 to 50.4, which, along with accounts placed for collection, leaves the category in roughly the same range it's been in for the last six months. Filings for bankruptcies also fell, and more steeply than expected, from 60.5 to 58.5, which is the lowest reading since August.
"The sense is that slow growth is starting to have an impact on the survival of business and some of that is to be expected, especially in the retail sector," Kuehl said. "The holiday season was not very robust and for companies that rely on those last months of the year, this can be the difference between staying open another year and giving up. As the economy slogs along, it is producing a growing number of businesses no longer positioned for survival."
For a full breakdown of the manufacturing and service sector data and visuals, view the complete February 2014 report at http://web.nacm.org/CMI/PDF/CMIcurrent.pdf. CMI archives may also be viewed on NACM's website at http://web.nacm.org/cmi/cmi.asp.
ABOUT THE NATIONAL ASSOCIATION OF CREDIT MANAGEMENT
NACM, headquartered in Columbia, Maryland, supports more than 15,000 business credit and financial professionals worldwide with premier industry services, tools and information. NACM and its network of affiliated associations are the leading resource for credit and financial management information, education, products and services designed to improve the management of business credit and accounts receivable. NACM's collective voice has influenced federal legislative policy results concerning commercial business and trade credit to our nation's policy makers for more than 100 years, and continues to play an active part in legislative issues pertaining to business credit and corporate bankruptcy.
NACM's annual conference is the largest gathering of credit professionals in the world. This year marks the 118th Credit Congress & Exposition, which will be held from June 8-11 in Orlando and will feature Dr. Kuehl in addition to a number of other economic and finance and credit experts.